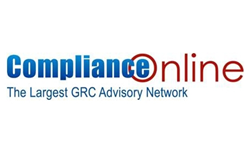 Los Angeles, CA (PRWEB) July 21, 2014
ComplianceOnline, the leading governance, risk and compliance advisory network with over 500 experts in various regulatory subjects, today announced a seminar on Building a Risk Based Internal Audit Plan: What Matters to the Organization. The two day seminar, led by renowned GRC expert Norman Marks, will be held on August 21 and 22, 2014 in Los Angeles, CA.
This seminar will provide tools and techniques for implementing a modern risk-based internal audit plan.
For more information or to register for the seminar, please click here.
Seminar instructor Norman Marks has not only led world-class internal audit departments that practiced risk-based internal auditing, but has been a passionate advocate of such practices for many years, including writing about it on his blog with the IIA. He has been profiled as an innovative and successful internal auditing leader, and is a Fellow of the Open Compliance and Ethics Group and an Honorary Fellow of the Institute of Risk Management. He has written multiple award-winning articles for the Internal Auditor magazine and is the author of the IIA's best-selling Management's Guide to Sarbanes-Oxley Section 404: Maximize Value Within Your Organization.
During the two day interactive seminar, Mr. Marks will discuss in detail the tools and techniques to implement a modern risk-based internal audit plan. He will also discuss challenges of reporting when there are multiple audits. Attendees will learn how to build a risk-based audit plan that is agile and designed to address the risks that matter to the organization.
This course is designed for all those who are responsible for developing, or assisting in developing, the internal audit plan. It will be beneficial for chief audit executives, internal audit directors and managers, internal audit consultants and bank regulators and examiners.
Date: Thursday, August 21 (8.30 AM- 4.30 PM) and Friday, August 22, 2014 (8.30 AM- 4.30 PM)
Location: Los Angeles, CA
Registration Cost: $1,599.00 per registration
Early bird discounts: For discounts on early registrations,please click here.
Register by phone: Please call our customer service specialists at +1-650-620-3937 or email to customercare@complianceonline.com
For more information on ComplianceOnline or to browse through our trainings, please visit our website.
About ComplianceOnline
ComplianceOnline is a leading provider of regulatory compliance trainings for companies and professionals in regulated industries. ComplianceOnline has successfully trained over 35,000 professionals from 9,000 companies to comply with the requirements of regulatory agencies. ComplianceOnline is headquartered in Palo Alto, California and can be reached at http://www.complianceonline.com. ComplianceOnline is a MetricStream portal. MetricStream (http://www.metricstream.com) is a market leader in Enterprise-wide Governance, Risk, Compliance (GRC) and Quality Management Solutions for global corporations.
For more information please contact:
A Reuben Bernard
Manager of Program Marketing
ComplianceOnline
2600 E Bayshore Rd
Palo Alto CA USA 94303
650-620-3937 phone
650-963-2530 fax
reuben@complianceonline.com
http://www.complianceonline.com