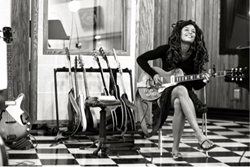 I love music, and printing for musical artists also means broadening your horizon in that way and getting to know new things. They're great clients.
London, Berlin, Barcelona (PRWEB UK) 18 July 2014
Valerie June is an American artist that seemed to have become famous over night in the UK. Valerie is a unique artist with an astonishing and singular sound, a blend of rural roots and country that bridges Alan Lomax's acoustic field recordings with biting, electric indie-blues.
Born in Tennessee, Valerie grew up as the oldest girl of five children and was exposed to music early in her life already; specifically R&B and soul music through her father and gospel music in the local church: "There was every kind of voice you can think of, so I was always trying to sit beside somebody who had a cool voice and listen to them and see what I liked about it. I had 500 teachers three-days-a-week for 18 years," states June.
Not only does Valerie have vocal talents, she also plays several musical instruments, such as the guitar, banjo, and ukulele, which she had all taught herself.
When moving to Memphis, Valerie discovered 1920's and 1930's music for herself, and fell in love with country blues and straight-up old time country, which heavily influenced her sound.
After having published her first album, "Pushin' against a Stone" in 2013, now she is touring the US and Europe and is playing in Belgium, the Netherlands, Spain, France, Italy, Switzerland, and the UK. Find all dates here.
The screen-printed t-shirts are being sold at Valerie's concerts. The merchandise to support her concerts has been provided by Garment Printing. After producing merchandise for several musical legends, such as Suede or Dave Davies from the Kinks, the company is now more actively engaging in this market, with the appointment of Merchandise and Business Development professional Mark 'Pepe' Bendle. Music clients are some of Director Gavin Drake's favourites: "I love music, and printing for musical artists also means broadening your horizon in that way and getting to know new things. They're great clients. Although the company specializes in textile printing, in cooperation with parent company Print This Print That Ltd., Garment Printing offers all kinds of merchandise not only for musical clients, but as well for corporate events, fashion clients … you name it."
About Garment Printing
Garment Printing is an industry-leading international promotional and customised clothing company that aims to maximise the efficiency of marketing teams and agencies through its integrated, global supply chain. Garment Printing offers a complete range of bespoke personalised t-shirt printing techniques including screen printing, embroidery, direct-to-garment and the latest dye sublimation t-shirt printing technology combined with express turnaround and excellent customer service. Garment Printing's agency work involves consultation with global brands, marketing teams and promotional agencies to ensure all printed clothing campaigns are realistic, within budget and effective. Its dedicated team act as extended members of the client's business to efficiently exceed customer and client expectations. For more information visit our website, follow us on LinkedIn, Facebook and Twitter.