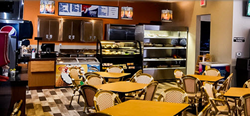 The reversible table tops are a popular choice for all kinds of venues because they are so versatile and affordable.
Scottsdale, AZ (PRWEB) July 17, 2014
Leading commercial furniture distributor, Restaurant Furniture.net recently teamed up with Butterfly Wonderland in Scottsdale to provide them with new patio chairs, table tops and table bases.
Butterfly Wonderland is the first phase of a planned "Odysea in the Desert," 522,000 sq. ft. entertainment complex that will eventually include the largest aquarium in the southwest, an IMAX theatre and a Ripley's Believe It Or Not Museum. Butterfly Wonderland is a rainforest environment featuring the largest butterfly atrium (10,000 square feet) in the United States. There are 50 different species of butterfly's, and over 2,500 butterfly's flying around at one time. Butterfly Wonderland receives new shipments of butterfly's every Friday. The butterflies come from tropical Asia, South America, Central America, Africa and Florida.
It also features a 3D Theater, chrysalis viewing lab, Rivers of the Amazon touch pools and aquariums, live ant colonies, honey bee display, Cafe and Butterfly Treasures gift shop. There is also a bee exhibit and a marine exhibit.
The owner contacted Restaurant Furniture.net to buy new patio furniture. He chose Restaurant Furniture.net because of their reputation as a valued manufacturer of high quality commercial furniture and competitive prices.
For new seating the owner decided to go with Restaurant Furniture.net's. Aluminum Bamboo Cane Arm Chair. The commercial grade chair is made of faux bamboo and is great for patio dining or for use indoors. The chair is made using a double tube Aluminum frame, this chair is durable and is a great choice for any restaurant, bar or any dining location. The Aluminum Bamboo Cane Arm Chair is currently on sale for $67 at Restaurant Furniture.Net.
The owner also bought reversible table tops in oak and walnut finish with brown T-molding edge. The reversible table tops also come in mahogany and black with black T-molding edge and come in many shapes and sizes. Prices start at $21.
"The reversible table tops are a popular choice for all kinds of venues because they are so versatile and affordable," said David M., salesperson for Restaurant Furniture.net. "The Bamboo Cane Arm Chairs were also a perfect fit for the café, blending in with the tropical atmosphere."
Browse Restaurant Furniture.net's full selection of commercial grade chairs, bar stools, table tops, table bases, booths and patio furniture at http://www.restaurantfurniture.net or talk to a customer service representative at (888) 409-1115.
Butterfly Wonderland is located at 9500 E. Via de Venture in Scottsdale, AZ. They can be contacted at: (480) 800-3000.