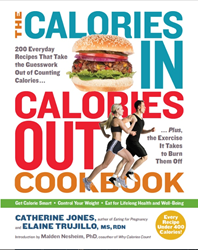 "This is the most mouthwatering selection of recipes I have ever seen in a low-cal cookbook," saysNew York Times–bestselling author Ann Louise Gittleman.
Bethesda, MD (PRWEB) August 20, 2014
Award-winning cookbook author Catherine Jones and leading dietitian/nutritionist Elaine Trujillo, MS, RDN, deliver an essential repertoire of 200 delicious, foolproof, healthy recipes tailored for busy families and individuals. Think of the foods you most love to eat—you'll find them in The Calories In, Calories Out Cookbook - recipes all below 400 calories per serving and most below 200 calories.
The authors take a bold and practical approach to calories never before seen in any cookbook. Each recipe comes with nutritional information plus "Calories Out," or the amount of exercise it will take to burn off those calories by walking or jogging. Crab Cakes with Super Easy Tartar Sauce, for example, clocks in at 145 calories per serving. Women walking = 35 minutes, jogging = 17 minutes; men walking = 30 minutes; jogging = 14 minutes.
 
This is the ONLY nutrition-cookbook that gives you tools to figure out how many calories you need, and how to meet your needs with the healthiest whole foods possible. No gimmicks or diet tricks included. Just good old-fashioned calorie counting and healthy home-cooking with exercise on the side. Marion Nestle, PhD, MPH, of Food Politics fame, who does not review cookbooks, could not resist throwing praise our way: "The book is beautifully designed and illustrated, exceptionally easy to read, and scientifically sound. Even better, the recipes are easy to follow and look delicious."
 
No food groups have been eliminated. Gluten-free recipes are listed, and all recipes come with diabetic exchanges and carbohydrate choices. Ann Gittleman, a New York Times bestselling author was profuse in her praise: "This is the most mouthwatering selection of recipes I have ever seen in a low-calorie cookbook." Please see our website for over a dozen phenomenal reviews from leading doctors, RDNs, and authors.
 
If you would like a review copy, or to schedule interviews, media appearances, or for content requests, please contact Anne Rumberger at The Experiment, (212) 889-1659, ext 10, anne(at)theexperimentpublishing(dot)com; Mario Gonzalez, at The Lippin Group (323) 965-1990 ext 339 mgonzalez(at)lippingroup(dot)com; or me, Catherine Jones, cell (301) 283-8703 catherinejonescooks(at)gmail(dot)com. We'd love to hear from you!
 
Upcoming Media Appearances Include: The Juice (8/21) Veria Living, Access Hollywood, KRT101 Radio (taped 8/15), Faith Middleton (NPR, will tape 8/27), and many others.
Catherine Jones, a graduate of La Varenne Culinary School, is the award-winning author or coauthor of numerous cookbooks including Eating for Pregnancy, and, with Elaine Trujillo, Eating for Lower Cholesterol. She a blogger, freelancer, Share Your Calories nonprofit co-founder and app developer, and has also recently been named a Diabetes Influencer. Elaine Trujillo, MS, RDN, is a nutritionist at the Nutritional Science Research Group, Division of Cancer Prevention, National Cancer Institute and National Institutes of Health (NIH).