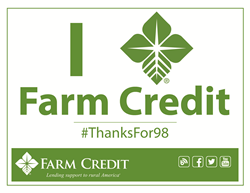 Today, Farm Credit celebrates its heritage as it continues to fulfill its mission to serve U.S. agriculture and rural America.
Leesburg, VA (PRWEB) July 18, 2014
Nearly 100 years after the U.S. Congress established Farm Credit http://www.farmcredit.com to serve as a reliable source of credit for the nation's farmers and ranchers, Farm Credit of the Virginias and the entire Farm Credit System remain a sound and vital financial resource for rural America. Today marks the cooperative networks' 98th anniversary.
"For 98 years, the Farm Credit System has served agriculture and rural America as a dedicated, reliable, competitive, customer-owned source of credit," said Dave Lawrence, President of Farm Credit of the Virginias. "America's agricultural producers and rural communities have benefited greatly from the vision and foresight that went into establishing the Farm Credit System."
Today, about 40 percent of the dollar volume of outstanding loans to U.S. farmers and ranchers comes from Farm Credit. The federally chartered network is comprised of 82 privately owned institutions, including four wholesale banks and 78 direct lending associations that operate in every county in all 50 states and Puerto Rico.
In support of its mission of service, Farm Credit System institutions also have programs specifically focused on meeting the needs of young, beginning and small farm and ranch operators. In 2013, more than 40 percent of new loans made by Farm Credit were to small producers, those with annual gross agricultural sales of $250,000 or less.
"Our cooperative model is designed specifically to ensure that our lending and related financial services are driven by the needs of our borrower-owners," commented Dave Lawrence President of Farm Credit of the Virginias. "Our focus remains on the success of our owners rather than on achieving quarterly returns to impress stockholders."
Farm Credit's commitment to its borrower-owners is demonstrated further by the fact that associations share profits directly with borrowers through patronage dividends. In 2013, Farm Credit of the Virginias delivered twenty-one million in cash patronage, allowing borrower-owners to reinvest in their own operations and to further support rural communities through local spending.
"Today, Farm Credit celebrates its heritage as it continues to fulfill its mission to serve U.S. agriculture and rural America," Barry Shelor, Farm Credit of the Virginas Chairman of the Board of Directors said. "Farm Credit was established as a permanent system of credit that is to be responsive to the needs of our nation's agricultural sector, and we look forward to continued success and a bright future."
Farm Credit of the Virginias provides over $1.5 billion dollars in financing to more than 10,000 farmers, agribusinesses and rural homeowners throughout Virginia, West Virginia and western Maryland. Farm Credit is a cooperative capitalized largely through investments made by farmers, ranchers and the rural homeowners and businesses that borrow from them. Farm Credit helps maintain and improve the quality of life in rural America and on the farm through its constant commitment to competitive lending, expert financial services and for facilitating and sharing knowledge and resources through the Farm Credit Knowledge Center. For more information, visit http://www.FarmCreditKnowledgeCenter.com or http://www.FarmCreditofVirginias.com.