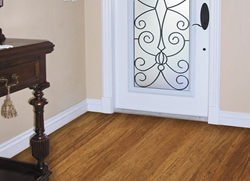 (PRWEB) July 18, 2014
Recently, BambooIndustry.com, an outstanding company of high quality bamboo products, has unveiled its latest designs of horizontal bamboo floorings. The great news is that all its new items are provided at discounted prices, up to 29% off. All orders placed ahead of July 28 are eligible the huge price cuts.
True enough, BambooIndustry.com's new horizontal bamboo flooring collection is made according to the newest customer feedbacks. In order to meet the varied needs of different customers, they are offered in various sizes. The company's qualified workers insist on using the best materials, so all its products are of superb quality.
It is worthy to mention that BambooIndustry.com has rich experience in making elegant bamboo floorings. On its website, worldwide distributors can find a larger number of great bamboo products that are available at affordable prices. Its popular products include plywoods, veneers, strand woven floorings, click strand woven floorings and wide plank floorings. It intends to help all customers to make their home more comfortable.
Owing to its excellent items and far-sighted marketing strategies, BambooIndustry.com has now become one of the leading suppliers in the bamboo industry. The company has gained a great reputation in the global market; this is why it has confidence in its new items.
About BambooIndustry.com
BambooIndustry.com is a website that belongs to BothBest Bamboo Flooring Co. Ltd., a professional supplier and exporter of bamboo products. Certified by both ISO9001:2008 and ISO14001:2004, the company has 8 years of experience in the manufacturing and wholesale of bamboo flooring products. It strives to bring its customers the latest styles and innovations of bamboo flooring, bamboo paneling, bamboo plywoods, bamboo furniture, and other bamboo products.
More information can be found at http://www.bambooindustry.com/bamboo-flooring/solid-horizontal-carbonized.html.