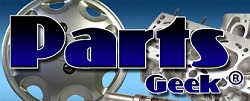 (PRWEB) July 18, 2014
Summer 2014 is here, and for many people, nothing can be more frustrating than being without air conditioning during the hottest days of the year. One of the reasons that an air conditioning unit may be functioning improperly in a vehicle is because its AC Compressor is unable to pump the refrigerant through the rest of the unit. Therefore, Parts Geek, a leading nationwide supplier of high-quality auto parts and accessories, is eager to announce that they now have over 20,900 AC Compressor parts available in their online inventory. A complete list of the AC Compressor parts can be viewed by clicking the following link: http://www.partsgeek.com/parts/ac_compressor.html.
With Parts Geek, customers will have the chance to acquire AC compressor parts from top brands such as: Hella, Austin Baker, Action Crash, Four Seasons, AC Delco, Motorcraft, UAC, Delphi, Denso, GPD, and Auto 7. Last but not least, Parts Geek also offers AC compressor parts for over 40 vehicle makes that includes but is not limited to: Chevrolet, Toyota, Volvo, Nissan, Hummers, Lexus, and GMC. Many of Parts Geek's AC compressor parts are in brand new condition and also available for free ground shipping depending upon which brand the customers chooses.
The reviews Parts Geek has received about their AC compressor parts have been near-perfect. A recent reviewer, who ordered a Denso brand AC compressor, gave Parts Geek 5 out of 5 stars and also had this to say, "Parts Geek has it at a very reasonable price if not the least expensive anywhere. Not some cheap aftermarket replacement either. Each of the several parts I've ordered is of high quality. Fit has been exact each time and many parts are OEM. I couldn't be happier with the ease of ordering, price and shipping which is extremely fast! I'm satisfied with every interaction and every part received...thanks!!!"
To hear more about their AC compressor parts, as well as read more reviews, please visit their website today.
About the Company:
At Parts Geek, they offer the best and most competitive prices on imported and domestic car parts. They also offer automobile accessories, and many of their items ship quickly—all from warehouses scattered throughout the US. Customers can pick from thousands—if not millions, of new automotive parts, refurbished/rebuilt parts, and more from reliable and certified manufacturers. To learn more please visit http://www.partsgeek.com.