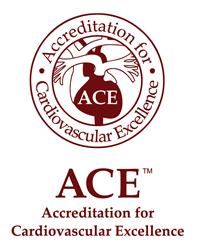 ACE is growing rapidly. In 2013, we doubled our number of accredited facilities and in 2014, we expect to continue this trend.-- Bonnie Weiner, MD
Washington, DC (PRWEB) July 17, 2014
Due to rapidly increasing demand for its cardiac cath lab PCI, Diagnostic and Carotid Stenting accreditation and quality review services, ACE is proud to lead the way in offering four new accreditation and external review services for catheter based cardiovascular procedures to include: Congenital Heart Disease, Electrophysiology including Implants & Devices, Transcatheter Valve Therapies and Peripheral Vascular Procedures.
"The intent is to create a one-stop-shop for all invasive cardiovascular services," said Ralph Brindis, MD, MPH., MACC, FSCAI, Past President, American College of Cardiology, and ACE, Vice Chair. "Our goal is to combine the high level of rigor and ACE's proven capabilities to assist clients in reducing unnecessary variation and achieving an easy implementation of rigorous quality programs. We strive to engage all caregivers including physicians, the lab team, and facility leadership."
ACE has become a leader in the invasive cardiovascular community, most recently referenced as a pioneer of accreditation standards in the new health policy statement from the American College of Cardiology, American Heart Association, and Society for Cardiovascular Angiography and Interventions (ACC/AHA/SCAI). In early 2014, the Commonwealth of Pennsylvania selected ACE as the first state department of health‐approved accreditation agency for Pennsylvania cardiac catheterization laboratories seeking a waiver from state regulation to provide elective PCI services without onsite open heart surgery.
"ACE is growing rapidly," stated Bonnie H. Weiner, MD, MSEC, MBA, MSCAI, FACC, and Chief Medical Officer. "In 2013, we doubled our number of accredited facilities and in 2014, we expect to continue this trend. ACE understands how to implement a rigorous and meaningful accreditation process, to bring maximum value to our clients and quality to the invasive cardiology community and its patients."
About ACE
ACE, an independent organization sponsored by the Society for Cardiovascular Angiography and Interventions (SCAI) and the American College of Cardiology Foundation (ACCF), offers independent evaluation and monitoring of facilities that provide cardiovascular care. By reviewing facility and operator performance and comparing clinical decision-making to nationally accepted best practices; ACE external quality review and accreditation services play a critical role in continuous quality improvement programs. Learn more at http://www.cvexcel.org.