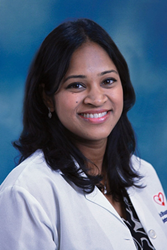 Suffern, N.Y. (PRWEB) July 17, 2014
Recent research published in the Journal of the American Heart Association finds that adults who watch TV three hours or more a day may double their risk of premature death from any cause. According to Dr. Sherrita Bhagan-Bruno, M.D., F.A.C.C. of ColumbiaDoctors of the Hudson Valley, sedentary behavior is an increasing trend. She recommends adults turn off the TV and start moving.
As we age, we lose muscle mass and strength. This process is accelerated in persons who are not physically active. Dr. Bhagan-Bruno advises her patients that physical activity keeps us healthier and living longer, while decreasing the risks of diabetes, heart attacks, strokes, high blood pressure, anxiety, depression, and dementia, to name a few. Dr. Bhagan-Bruno says, "Any activity is better than none. It is also never too late to become physically active (even at the age of 85). The more active you are, the greater the benefit."
Dr. Bhagan-Bruno says it's not necessary to get a stress test before beginning an exercise program, although stress testing may be recommended if you have been sedentary and want to begin a rigorous exercise program. Having said that, she advises it is always better to start an exercise program gradually and intensify as your body adapts to the new demands.
Dr. Bhagan-Bruno offers the following guidelines for a physical activity program. Exercise can be broken down into: 1) aerobic activity, 2) muscle strengthening, 3) flexibility, and 4) balance.
1. Aerobic Activity: A MINIMUM of 30 minutes every day is your goal. Examples of aerobic activity include speed walking, jogging, running, swimming, bicycling or using similar cardio equipment. This does not have to be done all at the same time. For example three 10-minute sessions during the day will provide the same aerobic benefit as a 30-minute session. If you want to lose weight, you will likely need to increase this exercise to 60-90 minutes daily.
Your target heart rate is 85% of your maximum heart rate, which varies by age and is calculated as 220 minus your age.
When beginning an exercise program, aim first for 50% of your maximum heart rate for the first few weeks. By six months into exercising, you should be able to exercise comfortably at 85% of your maximum heart rate. If you are unable to have a full conversation or feel lightheaded, slow down to a lower heart rate. If your heart rate is at 100%, then you are straining -- slow down.
You may not be able to achieve these heart rates if you are on cardiac medications such as beta-blockers. A substitute marker of a good level of exercise is when you notice a moderate increase in your breathing and heart rate.
2. Muscle strengthening: Sessions should be done on two non-consecutive days of the week, approximately 20 minutes each, and target 8-10 major muscle groups. Your goal is 10-15 repetitions of each activity, while gradually increasing the resistance (weight) over time.
3. Flexibility: Stretch twice a week for 10 minutes, ideally after aerobic or strengthening activities when your body is warmed up. Hold each stretch at the point that you feel a good pull (not pain) for 10-30 seconds.
4. Balance: More important for older adults, this includes activities such as tai chi, heel-to-toe walking or standing/hopping on one foot.
"The good news is an exercise program will not only improve your physical wellness, but your mental wellness as well," says Dr. Bhagan-Bruno. "So, get off the couch and start moving."
About Dr. Sherrita Bhagan-Bruno, M.D., F.A.C.C.: Dr. Bhagan-Bruno is a board-certified cardiologist and imaging expert, specializing in the latest techniques in echocardiology and nuclear medicine. Prior to joining ColumbiaDoctors of the Hudson Valley, she was the Assistant Attending Physician at Harlem Hospital Medical Center and is currently an Assistant Professor of Clinical Medicine at Columbia University. Dr. Bhagan-Bruno graduated from the New York University School of Medicine and completed her residency in internal medicine at Weill Cornell Medical Center, and her cardiology fellowship at St. Vincent's Catholic Medical Center. She holds a B.S. degree in chemistry and biology from St. John's University, where she was a National Honor Society Member and received the University's Community Service Award.
Visit http://columbiadoctorshudsonvalley.com/who-we-are/meet-our-cardiologists/sherrita-bhagan-bruno to learn more about Dr. Bhagan-Bruno.
About ColumbiaDoctors of the Hudson Valley: With offices in Suffern and Monroe, NY, ColumbiaDoctors of the Hudson Valley provides quality cardiovascular and general medical services to residents of the lower Hudson Valley, with a focus on prevention, diagnostic testing, and treatment. Its physicians and nurses, who have special expertise in women's heart health and older adults, are committed to providing exceptional and compassionate care at every step of a patient's treatment. CDHV physicians are faculty members of the Columbia University College of Physicians & Surgeons and affiliated with New York-Presbyterian/Columbia University Medical Center, one of the nation's top academic medical centers.
The affiliation with New York-Presbyterian/Columbia University Medical Center brings the vast resources of one of the nation's top heart care hospitals close to home. ColumbiaDoctors of the Hudson Valley was founded in 1979 as Ramapo Cardiologists and later renamed Hudson Heart Associates.
ColumbiaDoctors of the Hudson Valley is located at 222 Route 59, Suite 302, Suffern, NY, Phone: 845.368.0100,with offices also at 745 State Route 17M, Suite 203, Monroe, NY, Phone: 845.774.1403. Visit http://www.ColumbiaDoctorsHudsonValley.com for more information.