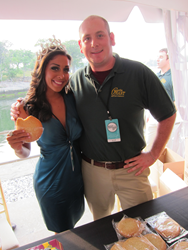 The Best of Westchester Party is a great venue for Gentle Giant movers to converse with members of the community, as well as share exciting stories about our unique experiences moving folks throughout Westchester
Westchester, NY (PRWEB) July 22, 2014
Award winning New York moving and storage company Gentle Giant, which specializes in local and long distance moving, today announced its involvement with Westchester Magazine's annual Best of Westchester Party, which will take place on July 23rd at the Glen Island Harbour Club. This is the fourth time Gentle Giant will exhibit at this popular party and networking event.
The New York moving company, one of 20 nationwide Gentle Giant locations, has been serving residential and commercial customers in Westchester County and Manhattan since 2005. Gentle Giant first attended the Best of Westchester Party in 2010, providing the growing moving company exposure to current and future customers, key influencers, and other businesses being recognized as "The Best of Westchester".
Gentle Giant will have a significant presence at the event and plans to give away a number of prizes, such as an Amazon Kindle eReader and two $250 Gift Certificates for Gentle Giant moving services. Also making a repeat appearance due to popular demand is the "Giant Feet" display that partygoers can use as a fun backdrop for photographs.
"The Best of Westchester Party is a great venue for Gentle Giant employees to converse with members of the community, as well as share exciting stories about our unique experiences moving folks throughout Westchester," explained Gentle Giant New York Branch Manager Josh Charry. "This event is an excellent way to show our neighbors that we are an award winning New York moving company who are eager to be of service and earn the opportunity to be recognized as the Best of Westchester in the future."
Being involved in high profile networking events like the Best of Westchester Party, and then backing up their great reputation while conducting moves, has increased Gentle Giant's brand recognition throughout New York so much that the 13-time Angie's List "Super Service" award winning moving company opening a second New York branch in the Brooklyn last year.
About Gentle Giant Moving Company, Inc.
Founded in 1980, Boston-based moving company Gentle Giant is an award winning residential and commercial mover, offering local moving, long distance moving, and international moving services. Named 2009 Independent Mover of the Year by the American Moving and Storage Association, one of the Boston Business Journal's Best Places to Work in Massachusetts in 2004, 2005, and 2006, winner of the 2006 International Torch Award for Marketplace Ethics by the Better Business Bureau, winner of the Better Business Bureau's Torch Award for Excellence in 2002, 2003, 2005 and 2008, nine-time winner of Boston Magazine's "Best of Boston," six-time winner of The Improper Bostonian's "Boston's Best Moving Company" award, thirteen-time winner of the Angie's List "Super Service" Award, 2007 Top Small Workplaces award from the Wall Street Journal and Winning Workplaces, and named a Healthiest Employer in 2013 by the Boston Business Journal, the company's services include craning, piano moving, complete packing and unpacking services, and other related services. Gentle Giant offers storage facilities and dispatches crews from more than 19 offices in California, Chicago, Massachusetts, New Hampshire, New York, North Carolina, Rhode Island, Virginia, Washington, DC and Washington State. For more information, please call (617) 661-3333 or visit http://www.gentlegiant.com.