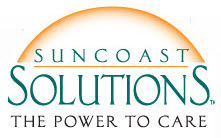 Suncoast Solutions has exceeded our expectations from start to finish, said Michael Link, Computer Systems Analyst for Hospice and Community Care.
Clearwater, Florida (PRWEB) July 18, 2014
On the heels of CR 8358 comes the newest CMS hospice requirement, the Hospice Item Set (HIS). The standardized set of items is intended to capture patient‐level data on each hospice patient admission. Hospices must now submit two HIS records – a HIS Admission record and a HIS Discharge record for each admitted patient. "The Hospice Item Set has been a demanding change on how Hospices are expected to report quality measures to the government," reports Michael Link, Computer Systems Analyst for Hospice and Community Care. "However, Suncoast Solutions has exceeded our expectations from start to finish during the HIS implementation process."
As Hospice organizations reach the 14-day mark to have their first set of HIS records signed, leading Hospice and Home Care software vendor, Suncoast Solutions, is sharing their comprehensive plan to meet this regulatory requirement and the tool that is getting the job done.
Utilizing the HIS Transmission Browser, a number of Solutions clients have had records submitted and accepted by CMS just 24 hours after the regulation took effect! The HIS Transmission Browser, which is integrated within the Solutions software, allows clinicians to manage all HIS data in one screen, thereby significantly decreasing staff time required to complete and submit HIS forms.
Jay Hill, Interim CEO of Suncoast Solutions, was adamant about sharing this victory with their client base. "I am continuously surprised by the power that's harnessed when our staff and clients collaborate on a project. In the months leading up to the HIS go-live date, we worked closely with clients to develop our solution, test functionality, and survey feedback. This is a win-win for everyone involved!"
Beginning in February 2014, Solutions kept clients abreast of regulatory and technical advancements while providing tools and guidance on how to begin reviewing their patient data.
"In preparation for this change, Solutions offered comprehensive training which really helped break down the expectations of this regulatory change and how the software would handle it. During the testing process, Solutions was very attentive and made quick, accurate changes to be compliant by July 1," said Solutions client, Michael Link, who was also part of the nationwide pilot group brought together to test the browser as a one-stop shop to handle this CMS regulation. "They keep daily, open lines of communication through their HIS Live Chat and have had a refreshing approach to collaboration with our organization, ensuring implementation went as smoothly as possible."
Jay Hill concurred, "We are especially proud of our HIS Live Chat. This open forum connects clients to a specialized team of support staff, developers, consultants, and the HIS product owner. The ability for our clients to get in touch via chat or call in to get the help they need, immediately, has proven invaluable!"
The Solutions HIS Transmission Browser was designed to streamline the HIS submission process by mapping information recorded during bedside documentation to HIS data collection. This negates the need for double documentation by your clinicians. Staff can view, complete, approve, track and create export files in the format required by CMS for submission. Even after a form has been submitted to CMS, users can access the forms to review them again or complete one of the CMS approved corrections. Staff can use this all-inclusive tool to conveniently alert and communicate with other agency members while in the same screen.
2014 is ushering in a new era of CMS regulatory reporting for hospice organizations across the nation. Jay asserts that Suncoast Solutions will remain the industry leader in regulatory compliance through persistent hard work, a watchful regulatory eye, and strong client partnerships. "We've worked hard to make this process less strenuous for our clients and the reason we've been so successful is through their continued partnership," said Jay. "Clients have called in to share their appreciation as their files were transmitted and accepted, and I've had the pleasure to thank them right back."
About Suncoast Solutions
Hospice and home health care providers rely on the unrivaled Suncoast Solutions software to manage their care programs with integrated EHR, reporting, financial and business intelligence tools. Based in Clearwater, Florida, Suncoast Solutions professionals have been dedicated to partnering with hospice and home care agencies exclusively since 1999. http://www.sncoast.com