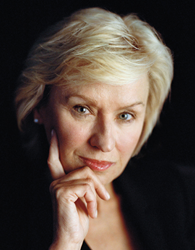 More than 300 senior-level leaders from retail and consumer goods will expand their power and influence.
Los Angeles, CA (PRWEB) July 17, 2014
Tina Brown, founder of Tina Brown Live Media and the veteran editor of Vanity Fair, The New Yorker and The Daily Beast, will be the closing keynote speaker at the Network of Executive Women's New Executive Leaders Forum 2014, July 29-31 at the Terranea Resort outside Los Angeles. The Network is the retail and consumer goods industry's largest women's leadership organization.
More than 300 senior-level leaders are registered for the invitation-only event, which will include four keynote addresses, eight concurrent workshops, a panel discussion with women board directors, executive coaching sessions and more.
Ann Fudge, former chairman and CEO of Young & Rubicam Brands, will open the NEW Forum with her insights on "Unleashing Your Authentic Power," July 30. Al Carey, chief executive officer of PepsiCo Americas Beverages, will offer his perspectives on women's leadership in a dinner conversation that evening.
Vicki Felker, vice president of pet specialty, customer development group for Nestlé Purina PetCare, and Barbara Walker, senior vice president, consumer marketing for Safeway Inc., are serving as co-chairs of the NEW Forum, themed "Power. Influence. Impact."
Eight concurrent Leadership Circles will focus on leveraging power and influence to effectively lead, build business and advance personal and professional goals. The facilitators of these career-changing workshops include industry leaders Keith Barringer of Accenture, Susan Chapman-Hughes of American Express, Joy Chen of Yes To Inc., Lawrence Drake II of LEAD, Maria Lindenberg of Chevron Corp., Marissa Nelson of Ahold USA, Virginia Simmons of McKinsey & Co. and Jesse Spungin, formerly with ConAgra Foods.
"The Power of a Great Board" panel discussion, moderated by Betsy Holden of McKinsey & Co., will include Michele Buck, president of North America for The Hershey Company, who serves on the board of New York Life Insurance Co.; Angela Braly, board director at Procter & Gamble; Janet Grove, board director at Safeway Inc.; and Susan Kropf, board director at The Kroger Co.
Other featured speakers include Sumeet Salwan, senior vice president, human resources, North America for Unilever, and Kendra Doyel, vice president, public relations for The Kroger Co.'s Ralphs Grocery and Food 4 Less/Food Co. chains.
The NEW Forum also will offer peer coaching and executive coaching sessions on a variety of leadership topics, a Night at the Forum reception and dinner and other networking events.
MEDIA ADVISORY: Please contact rwray(at)newonline(dot)org for press credentials.
ABOUT THE NETWORK
The Network of Executive Women is the retail and consumer goods industry's largest women's leadership organization, with more than 8,000 members, 750 companies, 100 sponsor partners and 20 regions in the United States and Canada. For more information on its events, learning, best practices and career development programs, visit newonline.org.