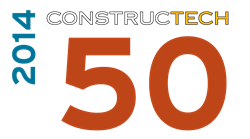 We're constantly looking to drive the industry forward by providing innovative solutions that make construction management more efficient.
Pleasant Prairie, Wisconsin (PRWEB) July 22, 2014
Constructech Magazine, a leading construction technology magazine, recently unveiled their annual Constructech 50, a listing of the top 50 leading technology companies in construction. New to the list this year is Pantera Global Technology, a fast rising cloud-based bid and project management software provider that has experienced tremendous growth over recent years.
Fueling Pantera's rise has been their heralded Integrated Plan Room, winner of the 2014 Top Product in Bid Management. The Integrated Plan Room has drawn some of the biggest names in the industry including the Hunt Construction Group and Lakeview Construction. President Dewayne Adamson attributes an emphasis on continual improvement and superior customer service as the main reasons for Pantera's success. "We're constantly looking to drive the industry forward by providing innovative solutions that make construction management more efficient and seek to provide the highest levels of customer support to ensure that all of our client's needs are met."
The focus on providing innovative solutions is exactly what Constructech is looking for when they assemble their annual list, "As we release the annual Constructech 50, the tech companies that are recognized realize they have to do more than just make upgrades to their products. They have to help drive the construction industry forward and that means doing something special year after year to be recognized on the Constructech 50," says Peggy Smedly, editorial director, Constructech magazine.
Pantera's latest endeavor has been to complete integrations between Pantera Project Insight, a leading project management solution and various construction accounting platforms, recently completing an integration with Sage 300 CRE, also known as Sage Timberline and Sage CRM. This allows Sage users to continue to use their world-class accounting platform and couple it with an intelligent, cloud-based project management system, increasing efficiency, saving money, and reducing risk. The integration is already generating much excitement among organizations who have long been seeking something that would enable project management and accounting to sync with one another.
Pantera's inclusion in the Constructech 50 was a welcome award, but the company is certainly not content to rest on their laurels, "Being honored for all of our hard work is great," says Bart Adamson Head of Product Development at Pantera, "but we're not done yet, we've got some things coming soon that will really change the market and the industry."
For a full list of the Constructech 50, please visit http://www.constructech.com and to see what Pantera is up to next visit http://www.panteratools.com.
About Pantera Global Technology
Pantera Global Technology, formed in 2009 by construction and technology veteran DeWayne Adamson, provides powerful bid, project, program, and risk management to the construction industry. Named a 'Top 20 Most Promising Construction Technology Provider" by CIO Review, the robust suite of Pantera products is quickly transforming the company into a major player in the Construction SAAS market. http://www.panteratools.com
About Constructech magazine
Constructech magazine is where construction and technology converge. The publication influences construction professionals to unleash the business value of technology. http://www.constructech.com