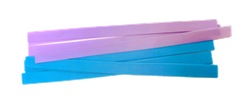 'Our new catalog is really focused,' said Griffith, 'We really wanted to focus on our core products and allow for our customers to really see all of the versatility that our products do have.'
Minneapolis & Chicago (PRWEB) July 21, 2014
PlatinumCode, a leading manufacturer and supplier of specimen identification, and collection products for the healthcare industry, announced that they have secured a booth space at the 2014 AACC Annual Meeting & Clinical Lab Expo taking place July 29 – 31, 2014 at McCormick Place in Chicago and have plans to distribute a new Specimen Collection Product catalog at their booth #4848.
PlatinumCode has secured a larger 10'x20' booth this year, doubling its previous size, due to the large amount of traffic in Houston in 2013.
PlatinumCode C.R.O., Ron Griffith explained, "2013 was our first time exhibiting at the Clinical Lab Expo and we found a very welcoming and overwhelming response to our specimen collection and identification products. We decided this year to increase our booth size as well as launch an all new specimen collection product catalog, which we feel will better represent our brand and growth."
PlatinumCode's new specimen collection product catalog features tourniquets, cohesive bandages, nitrile gloves, specimen transport bags, disposable lab coats and jackets, lancets, and heel sticks. PlatinumCode is currently re-designing their identification product catalog featuring labels for the clinical laboratory, pharmacy, admitting and materials management departments in healthcare facilities.
"Our new catalog is really focused," said Griffith, "We really wanted to focus on our core products and allow for our customers to really see all of the versatility that our products do have, such as bright colors, various sizes, and cutting-edge features. We also just launched infant tourniquets which have had a great response."
PlatinumCode launched infant tourniquets in response to customer demand earlier this year and plan to showcase them while in Chicago. The tourniquets measure one-half-inch wide by nine inches long and are available in both blue and purple.
PlatinumCode will be in booth #4848 at the 2014 AACC Annual Meeting & Clinical Lab Expo from July 29 – 31 in Chicago. The new catalogs as well as show specials will be available for all registered attendees.
For more information on PlatinumCode, please visit http://www.platinumcode.us. For more information on the 2014 AACC Annual Meeting & Clinical Lab Expo, please visit http://www.aacc.org.
About PlatinumCode
PlatinumCode offers a wide range of identification, transport and collection products for the healthcare facility including specially designed labels for laboratory and hospital information systems, instrumentation media, specimen transport products, bright-colored, non-latex tourniquet bands and cohesive bandages. Headquartered in Minneapolis, with warehouse locations in Toledo, Portland and Los Angeles, PlatinumCode serves thousands of clinical laboratories, hospitals and medical centers across the United States. PlatinumCode is broadening product lines and distribution in response to customer requirements.