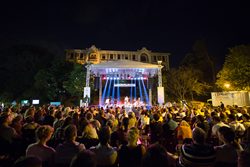 Istanbul, Turkey (PRWEB UK) 17 July 2014
Sponsored by The European Azerbaijan Society (TEAS), an Azerbaijani–Turkish ensemble of leading jazz musicians, led by Azerbaijani pianist and composer Salman Gambarov, closed the 21st Istanbul Jazz Festival on 16 July. Mr Gambarov and Bulgarian–Turkish singer Yildiz Ibrahimova collaborated with some of the foremost names of Turkish jazz to treat the audience of over 750 people to an unforgettable concert. The festival was organised by the Istanbul Foundation for Culture and Arts (IKSV).
The concert in the South Campus of Bogazici University formed part of the Encounters with Masters series that combines Turkish musical masters with musicians from neighbouring countries, resulting in unique and original music.
Salman Gambarov is best known for his Bakustic jazz group, which has flirted with post-bop, fusion and other genres, whilst Yildiz Ibrahimova, with her four-octave range and impressive improvisatory ability is best-known for her recordings of Turkish, Bulgarian, Romanian and Russian folk songs. Şenova Ülker is a genius of the jazz and classical trumpet that has experimented with Cuban music since participating in the band Passaporte Latino in 1998. Guitarist Önder Focan is also the owner and artistic director of Istanbul's Nardis Jazz Club and an accomplished composer, arranger and lyricist. The other musicians were oud player Fatih Ahiskali, best-known for the his work with the Rubato Society and Yeni Türkü bands, and the ensemble was supported by the propulsive drumming of Ferit Odman.
The Istanbul Jazz Festival comprised 28 concerts in 13 different venues across the city. Amongst the festival's foreign guests were the legendary pianist and composer Chick Corea, actor and blues pianist and singer Hugh Laurie, and French drummer Manu Katché.
The concert was preceded by a reception, when TEAS served Azerbaijani tea and desserts for the guests.