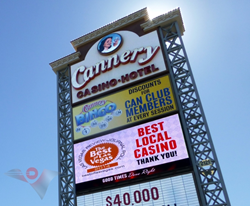 They are a wonderful customer and we are extremely please to have their business.
Las Vegas, NV (PRWEB) July 22, 2014
Voted "Best Local Casino" in the Las Vegas Review Journal, the Cannery Casino Hotel has been a local favorite since opening in 2003. They have a lot to be proud of, and a lot to advertise on their new outdoor LED sign. The original sign was a useful communication and marketing tool, but its age and reliability were becoming an issue. They turned to a trusted partner, Federal Heath Sign Company, to remove the old sign and give them a fresh new look with a higher resolution display, integrated with their existing content system.
The Cannery is located in North Las Vegas just west of I-15 on Craig Rd, a main thoroughfare for locals and visitors alike. They offer some of the best gaming in the area and a variety of live entertainment and food at multiple venues on the property. Advertising and keeping the public updated with this information is important and their original LED sign played a key role. However, it wasn't meeting their expectations over time and needed to be upgraded.
"They were looking for newer technology, a brighter sign that was more pleasing to their customers," said Scott Reese, Senior Sales Executive for Federal Heath, "They were really looking to upgrade their image."
The sign structure sits just a few yards off the street, highly viewable from moving traffic and vehicles at nearby intersections. This location provides a unique opportunity for the Cannery to utilize the dynamic nature of an LED sign to it's fullest. They needed a new solution that would last a long time and maximize the location. According to Reese, they chose Federal Heath because they trusted them to provide the solution they needed, when they needed it, and for a reasonable price.
"We've had a long standing relationship with the Cannery organization and their properties over the last 10-15 years," Reese explained, "We've always done what we say were going to do and they respect what we bring to the table...it's just good honest business."
Federal Heath Sign Company has been a source for quality signage since 1901. They have regional facilities across the US to provide sign and lighting solutions for their customers nationwide. In addition to traditional identity solutions, they offer sign and lighting maintenance, marketing solutions, and turn-key commercial remodeling services through their in-house brand divisions, including MX Services, Ingage Solutions and Specialty Contracting. The company's ability to provide custom solutions was important on this project, particularly with regards to the communications and content system.
The Cannery utilized a specific content management system for the original sign, and wanted to avoid implementing a new system that would require new training and IT support. For this project, Federal Heath recommended an LED sign manufactured by Vantage LED based out of Ontario, California who could adapt their hardware to work with the existing content management system.
"Federal has the opportunity to provide multiple products from multiple manufacturers; we married their needs to the company we thought would best provide the solution to those needs, and that was Vantage LED," said Reese.
The new LED sign is a 20mm full color Phoenix Series display, sized at approx 14 ft high, and 28 feet wide. It shipped with Vantage LED's Virtual Resolution technology to enhance the quality of the content, and included backup control hardware if the existing content system fails. A factory technician was provided onsite to work with the local IT personnel to ensure a successful installation and integration in late June.
Reese cited the Cannery's leadership and personnel as a significant factor in the process by being responsive in the preparation and finalization of the project.
"The people over there are just phenomenal, it's been great to work with them," he said, "They are a wonderful customer and we are extremely please to have their business."
The Cannery Casino Hotel continues to set the bar in quality gaming, entertainment, hospitality and dining. Whether it's advertising cash drawings, dining specials, or live shows, the new LED sign promises to deliver the dynamic outdoor messages needed to reflect the excellent experience available inside.