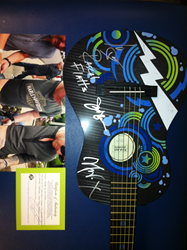 Our goal is for every man, woman and child to be able to live a life of vitality using chiropractic and natural healthcare options.
United States (PRWEB) July 21, 2014
On August 1st, 2014 Health Missions will begin selling raffle tickets for a chance to win an authentic autographed Rascal Flatts guitar. Tickets will be a mere ten dollar donation to Health Missions and the winner will be drawn and announced on Labor Day, September 1st. Many AlignLife clinic owners are Health Missions charter members, which means they have committed to donating time and effort into providing, proving and protecting natural health care. Dr. Mike Harbison and his wife Dr. Tina Harbison are two such clinic owners. The Harbisons have already planted a free community garden dedicated to Health Missions and now have donated this amazing guitar to be raffled off to help support Health Missions and their relationship with Life University. Earlier this year Health Missions partnered with Life University to publish large-scale Practice Based Research. The Chairman of the Board at Health Missions, Dr. Joe Esposito, said, "We will begin with demographic studies over the next year and hope to move into technique comparisons and objective functional outcomes and assessments."
Raffle tickets can be purchased online at http://mkt.com/health-missions/rascal-flatts-raffle-ticket, through a Health Missions Charter member or any AlignLife clinics.
Health Missions was created by the brother and sister team of Dr. Cristina and Dr. Joseph Esposito shortly after the death of their father from complications from unnecessary medication. They truly felt that had he been introduced to the powerful benefits of a healthy lifestyle at an early age, he would have been alive to see their commitment to bringing a positive change to the health care of not just a nation, but the world.
Cristina and Joseph have focused on expanding the reach of natural healthcare by creating a national chiropractic franchise called AlignLife which is currently expanding throughout the Midwest and East Coast. "Our goal is for every man, woman and child to be able to live a life of vitality using chiropractic and natural healthcare options."