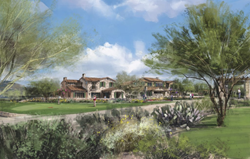 Silverleaf highlights from January – May 2014: The price per square foot on homes sold increased by 36% over 2013. Homesite prices increased again this year – up 40% over one year ago.
Scottsdale, Arizona (PRWEB) July 18, 2014
The first five months of 2014 have set a strong pace for the year in DMB's Silverleaf community. The foothills of Scottsdale's McDowell Mountain Preserve have brought buyers and builders into the canyons to experience the exceptional lifestyle and views of Silverleaf. So far in 2014, there has been a 20% increase in units sold and a 36% increase in the price per square foot over last year.
Silverleaf is setting a strong pace in the luxury home market. Increases in home values and limited inventory have pushed pricing up over the past few months. New products like Sterling at Silverleaf and Cullum Homes' newest offering, The Village at Silverleaf, are attracting new buyers and homeowners in the community. The Village at Silverleaf is set adjacent to the first tee and driving range at Silverleaf's Golf Club and will offer 12 semi-custom villas and seven club cottages designed to reflect the architecture of the iconic Silverleaf Clubhouse. Half of these homes at the Village at Silverleaf are already under reservation and a waiting list is being developed for the public. Pricing will be available in late fall.
"Silverleaf buyers understand the value of living here. They follow the market and know that Silverleaf is a sound decision in the long term," said Mike Sweeney, designated broker for Silverleaf Realty. "Most buyers experience the views and the Silverleaf Club and know it's the right place for them. Then it's a matter of moving quickly on a home because many of these homes aren't on the market long."
Here are some of the highlights from Silverleaf's Midyear Report from January – May 2014:

14 homes closed in Silverleaf in the past five months.
The price per square foot on homes sold increased by 36% over 2013.
23 homesites closed at an average price of $1,294,083.
Homesite prices increased again this year – up 40% over one year ago.
65 homes are under construction in Silverleaf.
The Village at Silverleaf debuted to Silverleaf owners and many of the 19 units are already under reservation.
Sterling Estate Villas have seven villas in progress and three Estate Villas have already been sold. Models are anticipated to open in August 2014.
Custom Homes:
There has been a marked increase in new home construction in Silverleaf. The Covenant Commission in the community reported that 50% of the custom homesites are completed or under construction. Three homesites closed this year at over $2 million.
Silverleaf is also home to a private Tom Weiskopf-designed championship golf course and a 50,000 square foot private club and spa. Silverleaf was the first private club in the region to introduce world-class spa facilities and a meditative labyrinth. Its hillside, rural Mediterranean design encompasses resort and lap pools; fully appointed men's and women's locker rooms; fine and casual dining; a golf shop and numerous outdoor gathering spaces all set in the foothills of the majestic McDowell Mountains.
About Silverleaf Realty
Silverleaf Realty is an affiliate of DMB Realty Network, an international sales and marketing company-providing solutions in the luxury residential real estate industry. Silverleaf Realty has been an integral part of the Silverleaf community before the first roads were even paved. The team of experienced professionals with proven results, offer specialized expertise as well as in-depth knowledge of the purchasing habits, market trends, pricing structures and home values in the Silverleaf community. Silverleaf Realty has sold more than $1.5 billion in real estate.
To experience Silverleaf or arrange an exclusive, personalized tour of the Silverleaf Club and available residences and homesites, contact Silverleaf Realty at (480) 502-6902 or visit http://www.silverleaf.com.
About Silverleaf
Silverleaf opened in 2002. Its private, classically designed neighborhoods are tucked into the canyons of the McDowell Mountains and created as part of the award-winning development of DC Ranch. The upscale, gated community comprises five distinctive neighborhoods: the custom estate homesites of Upper Canyon and Horseshoe Canyon; the luxury custom homesites of Arcadia; and the intimate home designs of The Parks and The Sterling.
Each neighborhood is defined by its parks and open space, topography, view corridors, and home and homesite product offerings. At build-out, the community will have approximately 700 homes on its 2,000 acres. Prices range from the $975,000 to more than nearly $9 million. For real estate information, visit http://www.silverleaf.com.