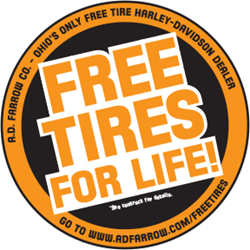 Columbus, OH (PRWEB) July 17, 2014
The A.D. Farrow Co. Harley-Davidson Family of Dealerships is now offering "Free Tires For Life" to any purchaser of a new Harley-Davidson motorcycle. The company has come up with a clear and concise set of guidelines for getting free tires in order to actively practice their mission statement, "To grow and serve the motorcycling community." The program went underway July 17th and the staff at all three central Ohio locations are welcoming customer questions.
"This idea was truly customer centric, " states dealership principal Bob Althoff, "we took a step back and asked ourselves what customers really want." A.D. Farrow Co. Harley-Davidson will be the first Harley-Davidson Dealer in Ohio to offer Free Tires For Life.
So as not to rest on the laurels of being America's Oldest Harley Dealer the Company is continuing to come up with ways to become "the best." The Company plans to use the program to compete with other Top 100 Dealers in the yearly Dealernews Top 100 Awards competition. Doug Kamerer, Marketing Director states, "This is exactly the sort of thing that will set us apart from other dealers."
To learn more about the tire program, click here.