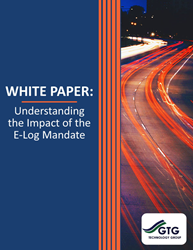 Houston, TX (PRWEB) July 18, 2014
Truck drivers, company managers, and individuals traveling on the interstate will benefit from the E-Log Mandate.
The E-Log mandate was developed by the U.S. Department of Federal Motor Carrier Safety Administration (FMCSA) to improve vehicle compliance and increase safety across the transportation industry.
The mandate requires drivers to track their hours using electronic logging devices. In turn, drivers will improve their skillset by working practical hours, and company managers will see an increase in productivity due to the decrease in fleet maintenance. Lastly and most importantly, the safety of all travelers on the interstate will be improved due the reduced risk of truck driver error.
GTG will continue to publish credible white papers to provide the transportation industry with holistic business solutions that will be supported by facts, statistics and figures. GTG understands the challenges faced by businesses of every size. All white papers are written by GTG's team of industry experts with over 100 years of transportation experience.
The new white paper is available for PDF download at no cost. To read more information and to obtain a copy of the white paper, go to: http://gtgtechnologygroup.com/white-paper-understanding-imapct-e-log-mandate/0.
About GTG Technology Group, LLC:
GTG Technology Group, LLC helps to build software to manage global transportation management systems (TMS) for all sizes of intermodal and drayage transportation companies. GTG is dedicated to providing TMS solutions designed to provide end-to-end visibility and connectivity. GTG's software was engineered to help businesses in the transportation industry overcome challenges faster, cheaper and more efficiently.