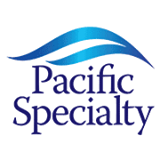 Menlo Park, CA (PRWEB) July 18, 2014
Pacific Specialty Insurance Company has been named to Ward's 50 list as one of the top-performing property-casualty insurance companies for the fourth consecutive year.
To compile its list, Ward Group analyzes the financial performance of over 3,000 property-casualty insurance companies located in the United States and identifies the top performers.
"To be named a Wards Top 50 carrier is a true honor and a reflection of the hard work and dedication of our staff. We are proud to offer products to our independent agents and brokers that are backed by such a distinguished award," said John Chu, President and CEO of Pacific Specialty Insurance Company.
Ward Group is the trusted of benchmarking and best practices services for insurance companies. To be considered for the Ward's 50 designation, each company must first pass stringent safety and consistency tests. Companies that pass are then measured and scored based on five-year statistics on average return on average equity, average return on average assets, average return on total revenue, growth in revenue, improvement in surplus to written premium, and average combined ratio.
The 2014 award recognizes performance from 2009-2013.
Visit Pacific Specialty: http://www.pacificspecialty.com
Pacific Specialty Insurance Company
Pacific Specialty Insurance Company – the flagship of the McGraw Group of Affiliated Companies – is recognized as an industry leader in Property, Powersports, Liability and Commercial Garage insurance. Pacific Specialty operates as an admitted insurance company in all 50 states and the District of Columbia and offers coverage only through independent agents and brokers.
Like Pacific Specialty on Facebook: https://www.facebook.com/PacificSpecialtyInsuranceCompany
Follow Pacific Specialty on LinkedIn: https://www.linkedin.com/company/pacific-specialty-insurance-company
Contact:
Erin C. Heine
eheine(at)pacificspecialty(dot)com
800-303-5000 ext. 8287