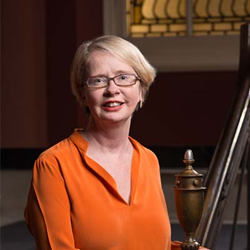 Birkbeck has helped forge my career and this is an institutional achievement as well as a personal one.
(PRWEB UK) 17 July 2014
Birkbeck's prize-winning scholar Professor Joanna Bourke was elected today as a Fellow of the British Academy – the prestigious national academy representing the humanities and social sciences. The honour was conferred in recognition of her outstanding historical research.
Professor Bourke, who has taught at Birkbeck, University of London, since 1992, said: "I am delighted to be elected to the British Academy. Birkbeck has helped forge my career and this is an institutional achievement as well as a personal one. My students at Birkbeck have always contributed to my thinking. They possess keen appetites for new ideas and are astute assessors of historical arguments. My academic colleagues in the Department of History, Classics and Archaeology, in the School of Social Sciences, Politics and History, and in the College have provided me with the support that we all need."
Professor Bourke, who became a Professor of History at Birkbeck in 1999 and the College's orator in 2012, recently published The story of pain: from prayer to painkillers – an acclaimed study of pain since the eighteenth century. Her book An intimate history of killing won the Wolfson Prize in 2000 and the Fraenkel Prize in 1998. Professor Bourke's research interests include the history of sexual violence, the history of fear, cultural histories of military conflict, social histories of the British working classes between 1860 and the 1960s, and the social and economic history of Ireland in the late nineteenth and early twentieth centuries.
Professor Bourke also sits on the editorial board of many esteemed publications, including Medical History, The Journal of British Studies, Gender and Conflict, and BBC History Magazine.
Professor Bourke's new one-year undergraduate module, called Cultures of violence in late nineteenth and twentieth century Britain and America, begins this autumn at Birkbeck. She also teaches courses at Birkbeck in modern British history, including a survey course on British History from 1750, and more specialised courses on Literature and Film between 1914 and 1945, Gender in Modern Britain, and the Cultural History of Modern Warfare.
Other Birkbeck academics to have been elected Fellows of the British Academy in previous years include:

Professor Mark Johnson, Director of the Centre for Brain and Cognitive Development
William Rowe, Anniversary Professor of Poetics
Isobel Armstrong, Emeritus Professor of English
Ian Christie, Anniversary Professor of Film and Media History
Eric Hobsbawm, Professor Emeritus of Economic and Social History and President of the College
Michael Hunter, Professor of History
Joni Lovenduski, Anniversary Professor of Politics
Annette Karmiloff-Smith, Professorial Research Fellow, Centre for Brain and Cognitive Development
Laura Mulvey, Professor of Film and Visual Media
Notes to editors
To interview Professor Joanna Bourke, please contact Guy Collender ( g(dot)collender(at)bbk(dot)ac(dot)uk, 020 7380 3108).
Birkbeck is a world-class research and teaching institution, a vibrant centre of academic excellence and London's only specialist provider of evening higher education.
In 2013, Birkbeck was ranked among the top 1% of universities in the world. Birkbeck's students consistently rank the College number one in London for the quality of its teaching.
18,000 students study at Birkbeck every year. They join a community that is as diverse and cosmopolitan as London's population.
-For more information about Birkbeck contact Guy Collender at 0207 380 3108, gg(dot)collender(at)bbk(dot)ac(dot)uor visit http://www.bbk.ac.uk .