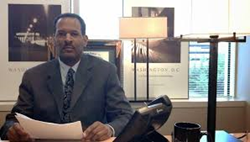 With personable, Christian Service; we negotiate aggressively and competently to get the results you need for your goals and your future.
Washington, DC (PRWEB) July 18, 2014
The Law Offices of Wardell Huff, PLLC recently released a new video describing their firm's best practices in the field of bankruptcy law. The video is meant to describe the business and industry best practices for Bankruptcy Lawyers in Baltimore, MD.
Unemployment rates are high and mounting debt is overtaking many families in Maryland and surrounding areas. For these families, financial freedom seems hopeless because of the pile of debt that was heaped upon them during this recent economic downturn. Fortunately, there is hope. With personable, Christian service, the Law Offices of Wardell Huff negotiates aggressively and competently to free these families who are trying anything and still losing everything.
Attorney Wardell Huff has worked professionally in the insurance and in the real estate industries, formerly being the owner of Keystone Title Company, LLC located in Tidewater, Virginia. Additionally, he has past experience in criminal prosecution but directed his focus to the preparation of corporate antitrust cases, consumer bankruptcy, and debt relief at the turn of the millennium. Now concentrating on his private practice, Mr. Huff takes great pleasure and pride in helping individuals with their financial matters, real estate concerns, citizenship requirements and more.
Selecting the Law Offices of Wardell Huff, PLLC, means selecting a law firm intent on providing its clients with professional quality services in a timely manner and at a competitive rate. Their staff members offer authoritative and effective legal counsel and their staff's attention to detail, responsiveness, and preparation collectively surpass industry standards. Acutely aware of the challenges our nation faces, the Law Offices of Wardell Huff stand ready to assist its clients in overcoming a variety of difficulties with compassion, sensitivity, and dignity.
Call the Law offices of Wardell Huff now at phone number (866) 784-7177 or visit their website at http://www.whufflaw.com.