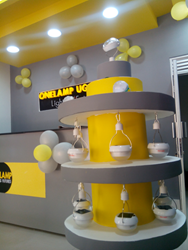 "Every household can save up to UGX30,000 monthly of its disposable income by using solar light bulbs."
Denver, CO (PRWEB) July 17, 2014
Nokero International, LLC today announced the launch of Uganda dealership, Onelamp, to provide solar light bulbs to Eastern Africa and combat a surge in East African illiteracy rates. Founded by Derrick Opio, Onelamp is illuminating the future of Ugandan education by providing a safe, sustainable, solar light to primary school children.
Inspired by his education and social entrepreneurship research at New York City's DO School, Mr. Opio Derrick Hosea found that 7.5 million Ugandan primary school children needed a cleaner alternative to kerosene lighting. Through extensive market-based and academic research, Derrick found that across Uganda only 1% of rural schools have access to electricity and the 2014 UWEZO East Africa Report announced Uganda as the leading East African country in primary school illiteracy rates.
Partnering with US-based solar company, Nokero, Onelamp Uganda aims to address literacy rates among primary schools by providing safer and more affordable nighttime lighting options. 79% of rural homes in Uganda use kerosene lanterns (tadooba) for lighting, which only emit 1-6 lumens of light. Onelamp, however, sells solar lights at 6-30 lumens and ranging from USD$6.85 (UGX18,000) to USD$21 (UGX55,000). According to Onelamp, "Every household can save up to UGX30,000 monthly of its disposable income by using solar light bulbs." Onelamp's solar models are water-resistant and come with a hanging clip for easier charging during the day. They are all patented designs made in quality-controlled factories and will last 2-5 years with a warranty of 3 months and no additional expenses after the initial purchase.
Recently featured at the 22nd National Trade Show in Jinja, Uganda, Onelamp has had successful introductory sales. This Friday, July 18, 2014, they celebrate the opening of their store from 5:00 to 7:00pm. The official opening of Onelamp's regional store will also celebrate a product launch and press conference at Trans Atlantic City Plaza in Jinja. Press is encouraged to attend and meet notable guests from local universities, government agencies, community programs, businesses, and civil society organizations. Visitors can also enjoy up to 40% off storewide during the launch party. For more information, please email info(at)onelamp(dot)ug, call +256434660875, or visit http://www.onelamp.ug/upcomingevents.
About Onelamp Uganda
At Onelamp, we believe that education and solar energy should go hand in hand as the most effective way of breaking the cycle of poverty plaguing rural communities in Uganda and the African continent. We recognize light as a critical enabler to quality education for the world´s deprived and underserved. Onelamp is based in Jinja, Uganda and was founded in 2014 by Mr. Opio Derrick Hosea, a Ugandan youth who won a scholarship to attend the DO School's international program for emerging social entrepreneurs. Onelamp aims to provide solar lights to 1,000,000 children by the end of 2016.
About Nokero
Nokero International, LLC delivers sustainable solar lighting solutions to families, businesses, NGOs, and public agencies. The name 'Nokero' originates from the phrase 'No Kerosene'—evoking its mission to replace the harmful, polluting fuel with cleaner, safer, and more environmentally friendly renewable energy solutions. Founded in 2010 by inventor and CEO Steve Katsaros, Nokero is a privately held company headquartered in Denver, Colorado, USA with offices in Hong Kong and Kenya. Since its inception, Nokero has distributed over 1 million solar light bulbs to 130 countries by working with dealers worldwide. To inquire about dealer opportunities and bulk quantity discounts, please apply at http://www.nokero.com/dealers/application.