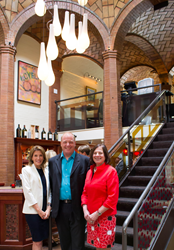 Greenwich, CT (PRWEB) July 17, 2014
As an active member of the community, Morello Italian Bistro hosted and sponsored YWCA Greenwich's 95th Anniversary Supporter Appreciation Party Tuesday, July 15. The event thanked contributors for helping to support YWCA initiatives and programs since the Greenwich chapter's founding in 1919.
Around the globe, the YWCA operates in 125 countries, reaching 25 million women and girls through its work in 22,000 communities. It is the oldest and largest multicultural women's organization in the world. In the United States, the YWCA, founded in 1858, has more than 1,300 sites that serve over two million people.
YWCA Greenwich volunteers, employees, and supporters enjoyed wine, cocktails, and conversation in the stunning architectural backdrop of Morello. Passed hors d'oeuvres included Morello's signature tomato bruschetta, salmon tartare, wild mushroom arancini, and whipped ricotta.
"We take great pride in supporting an organization as impactful as the YWCA," said Jimmy Branigan, general manager of Morello. "The local chapter does a great deal to educate and empower women of all ages in our community and we are happy to give back in this way."