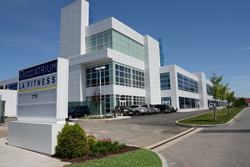 Bronx, NY (PRWEB) July 18, 2014
Simone Development Companies announced today that Affinity Health Plan, a leading managed care organization serving more than 267,000 members in the New York metro area, has signed a lease for 95,000 square feet of office space at Simone's Metro Center Atrium mixed-use complex in the Bronx.
Affinity Health Plan is relocating its headquarters from 2500 Halsey Street in the Bronx to the Metro Center Atrium, a 370,000-square-foot office/retail/hotel complex that is nearing completion at Simone's 42-acre, multi-building Hutchinson Metro Center campus.
"We are thrilled to announce this major lease transaction at the Metro Center Atrium. With the addition of Affinity Health Plan, the Metro Center Atrium is approaching full occupancy, making it one of the most successful new commercial real estate developments in the region. This is great news for the Bronx, which is enjoying an unprecedented economic renaissance," said Joseph Simone, President of Simone Development Companies. "The leasing activity that we have experienced over the past six months has been phenomenal. The Metro Center Atrium has emerged as the premier location for healthcare companies and medical practices looking for state-of-the-art space in a convenient and central location with first-class amenities," Simone added.
Cresa New York represented Affinity Health Plan in the transaction. Simone was represented in-house by Joseph Simone, Joseph Deglomini, Jr. and James MacDonald.
Among the other healthcare tenants recently signing leases at the complex include Montefiore Medical Center, Calvary Hospital, Fresenius Medical Care North America, Hanger Prosthetics, Parkchester Oral & Maxiliofacial Surgery and Ophthalmologist Dr. Eric Wolf. The Metro Center Atrium is less than a mile from five major hospitals, making it an ideal location for medical practices and healthcare companies.
In addition to healthcare and medical practices, the Metro Center Atrium is also attracting retailers including Dunkin Donuts, which will occupy 1,500 square feet on the ground floor, joining an LA Fitness health club (first in New York City) and a 9,000-square-foot Children's Corner day care center. An announcement is expected soon on a national family-style restaurant chain opening at Metro Center Atrium. Another major feature drawing tenants to the complex is the new 125-room Marriott Hotel which is scheduled to open in the fall. It will be the first luxury hotel to open in the Bronx.
Located within Simone Development's highly successful Hutchinson Metro Center complex in the Pelham Bay section of the Bronx, Metro Center Atrium features three floors of Class A office and medical space, as well as further retail and restaurant opportunities. The architecturally distinctive building features a spectacular glass atrium and lobby and is set in a beautifully landscaped suburban-style campus setting. Abundant parking is provided on-site with more than 1,100 spaces. For leasing information, call (718) 518-8600.
Conveniently located off the Hutchinson River Parkway, Metro Center Atrium is easily accessible to major highways, bridges and airports. Manhattan is less than 20 minutes away and Westchester County is 10 minutes away. LaGuardia, JFK, and Westchester County airports are less than 30 minutes from the site.
About Simone Development Companies
Simone Development Companies is a full-service real estate investment company specializing in the acquisition and development of office, retail, industrial and residential properties in the New York tri-state area. Headquartered in the Bronx, the privately held company owns and manages more than 5 million square feet of property in the Bronx, Westchester County, Queens, Long Island and Connecticut. The company's portfolio includes more than 100 properties and ranges from multi-building office parks to retail and industrial space. The company's largest and most successful development is the 42-acre Hutchinson Metro Center office complex located directly off the Hutchinson River Parkway in the Pelham Bay section of the Bronx. The first two phases of the complex (1200 Waters Place and 1250 Waters Place), which comprise nearly 750,000 square feet of Class A office and medical space, are fully leased. Two additional phases totaling 650,000 square feet (the 370,000-square-foot Metro Center Atrium and 280,000-square-foot Tower Two, adjacent to 1250 Waters Place) are currently under development.