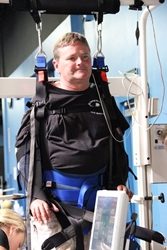 I see and speak to so many people living with a spinal cord injury," says Schmidt. "Everyone is different and recovers at different paces but the bottom line is if you don't try, nothing will happen.
SAN DIEGO, CA (PRWEB) July 18, 2014
Sam Schmidt believes that a solid foundation in perseverance is key to the improvement or growth of anything. While reflecting on his life before his injury, Schmidt sat quietly, eyes ablaze; before confidently saying, "if you don't try, nothing will ever happen."
Schmidt, an IndyCar legend and racing league owner has a long history of hard work and dedication. Having been a successful businessman before pursuing a career as an IndyCar driver, Schmidt takes that "can-do" mentality and applies it to everything he does; including his recovery process.
Today he travels the majority of the year despite being a quadriplegic saying, "Southwest is my friend." He chuckled and added, "it's easiest to travel with them in my [wheel]chair."
A Las Vegas resident, Schmidt recently took some time to focus on his recovery at the Project Walk Paralysis Recovery Center in Las Vegas, NV. With his travel schedule, he was able to squeeze in some additional time at the Project Walk in San Diego, CA where he was able to sit down for a short interview with the Project Walk team.
His underlying message throughout the interview was clear, "don't stop trying."
Schmidt, 14 years post injury; speaks of a time where he felt he could conquer any obstacle with hard work. After living with paralysis for over a decade, he says the breakdown of the body is different.
However, he says he is thankful for the progress he has made and believes there is better still to come.
Based on The Dardzinski Method, Project Walk is the pioneer in activity-based recovery with nearly two decades of experience working with paralysis. It's the Project Walk mission to provide an improved quality of life for people living with a spinal cord injury, paralysis or mobility-related disorder through intense activity-based recovery backed by research and technology.
Schmidt is excited to spend a little more time at the Project Walk Centers and believes "it's been beneficial" to bring additional centers to more locations.
In his spare time he also created a foundation dedicated to finding a cure for spinal cord injuries and is a shareholder/owner of BraunAbility; a wheelchair mobility company with over 40 years in the handicap accessible industry.
"I see and speak to so many people living with a spinal cord injury," says Schmidt. "Everyone is different and recovers at different paces but the bottom line is if you don't try, nothing will happen."
For more information on Project Walk and custom recovery options, please visit http://www.ProjectWalk.com