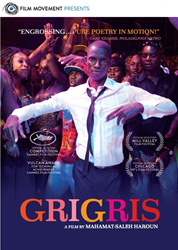 New York, NY (PRWEB) July 18, 2014
Film Movement (http://www.filmmovement.com), the distributor of award-winning independent and foreign films, announces today that THE AUCTION and GRIGRIS will be released on DVD on August 19. Both dramas, from French Canada and Chad respectively, earned acclaim and awards at the Cannes Film Festival last year.
A Critics' Week winner at the Cannes Film Festival, THE AUCTION is the sophomore feature from Canadian director Sebastien Pilote. The film follows the aging Gaby, a man of few words who maintains his family farm alone, his grown daughters long since moved on from rural life. When his eldest returns home with the news that she's divorcing and will lose her home without a loan, he quietly begins the work to auction off the land and livestock that otherwise would have been his legacy. Told with a quiet intensity, THE AUCTION depicts the lengths one father is willing to go to tend to his family as steadfastly as he does his farm.
The fifth feature from acclaimed director Mahamat-Saleh Haroun (A Screaming Man), GRIGRIS was honored with the Vulcan Award for technical achievement at Cannes Film Festival and was the African nation of Chad's official entry into the Academy Awards®. Grigris dreams of making a living on the dance floor, despite his bum leg. But when his stepfather falls ill, he'll delve into the sinister world of oil smuggling in an effort to both pay his family medical bills and impress the softhearted prostitute for whom he has quickly fallen. Soon, they are on the run from their poor decisions, hoping to start a new life together.
Each DVD features a bonus short film specially selected to compliment the feature; THE AUCTION includes the 10-minute short from Spain, THE GIANT, while GRIGRIS includes the Academy Award®-nominated animated short film FERAL. Available to own on DVD August 19th, both feature films also become available to own digitally on all major platforms (iTunes, Amazon Instant, Google Play and more).
###
THE AUCTION | 2013 | 111 min | Canada | French with English subtitles | Drama | Unrated
Complete press kit, trailer, stills and synopsis available here
GRIGRIS | 2013 | 101 min | Chad | French with English Subtitles | Drama |Unrated
Complete press kit, trailer, stills and synopsis available here
To request a DVD of THE AUCTION or GRIGRIS for review please contact: DVDpress(at)filmmovement(dot)com.
About Film Movement:
Launched in 2003, Film Movement is a full-service North American distributor of award-winning independent and foreign films, based in New York City. Film Movement has released more than 250 feature films and shorts from 50 countries on six continents, including top prize winners from Sundance, Cannes, Venice, Toronto, Berlin, Tribeca and other prestigious festivals. Film Movement releases its films through numerous distribution channels, including thousands of art-house cinemas, universities and libraries; home video; television outlets; Cable Video on Demand (including its very own branded cable VOD platform—Film Festival on Demand—available in over 40 million US homes); In-flight Entertainment and broadband outlets. In late 2013, Film Movement launched RAM Releasing, a genre label to distribute thriller, suspense and noir films across all platforms. For more information, please visit http://www.filmmovement.com.