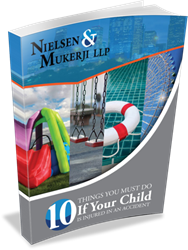 Thousands of children are seriously injured every year
Houston, Texas (PRWEB) July 30, 2014
Nielsen & Mukerji, LLP, a Houston-based personal injury law firm, has published an e-book that is designed to guide parents through the aftermath of child injuries. The book is titled "10 Things You Must Do If Your Child Is Injured in an Accident."
"Thousands of children are seriously injured every year," stated Eric Nielson, who is one of the attorneys at Nielson & Mukerji, LLP. "These emergencies can be overwhelming, and this tool is designed to help parents navigate the aftermath of these difficult situations."
The guide covers ten ways that parents can make sure that they have everything in order so that their children can receive the best care in an emergency. The checklist also provides parents with the information that they will need for the insurance company, medical professionals and others who are involved in their child's care.
"These steps are important if a child has already suffered an injury, but parents should also become familiar with them before an accident occurs," explain Nielson. "That way, if an accident does occur, the parents immediately know how to handle the situation."
Parents can download "10 Things You Must Do If Your Child Is Injured in an Accident" from the law firm's website.
About Nielson & Mukerji, LLP
Nielson & Mukerji, LLP is a Houston-based law firm that specializes in child injury cases. For more information, visit their website or call 713-973-1300.