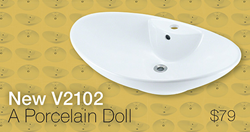 It's sweeping curves, lustrous finish, and low profile make it appear to be a work of art, rather than a simple bowl.
Toledo, OH (PRWEB) July 19, 2014
MR Direct is proud to introduce yet another addition to its porcelain collection of vessel-style bathroom sinks – the V2102. Its sweeping curves, lustrous finish, and low profile make it appear to be a work of art, rather than a simple bowl. As viewed from above, the V2102 features an oval shape, but its side-view reveals that, on both sides, its rim slowly and smoothly dips in the middle to provide easy access. The elegance of the V2102 is bound to garner its share of attention in the bathroom fixture marketplace.
As one of MR Direct's larger porcelain offerings, this newest vessel-sink design generally compares to their V210 model in its style and oval shape; but the dimensions have changed, some significantly. The new V2102 is a full 2 1/4 inches shallower than the existing V210, with a 5 1/2 inch inner depth. Its overall depth of 7 3/4 inches is down as well, from 8 7/8 inches. The long measurement is 25 5/8 inches, slightly shorter than the V210; but its narrow measurement has increased to an even 17 inches. In the end, the V210 has been pushed and pulled into a new shape, so distinctive, it has earned its own place in the MR Direct collection as the V2102.
This new vessel sink also offers a pre-drilled faucet hole which allows for the installation of any style of single-handle, vessel or lavatory faucet. Four distinct MR Direct faucets are currently available to fit the V2102; each in the consumer's choice of chrome, brushed nickel, or oil-rubbed bronze finishes. The V2102 also comes with an overflow hole so that the bowl can be safely filled using one of MR Direct's special pop-up drains; which are also available in all three finishes to match their faucets.
As with all porcelain vessel sinks, installation is simple, directly on the counter, and requires no additional hardware. All-in-all, when an artistic statement is desired to be made in the bath through the use of porcelain, the graceful V2102 from MR Direct should be considered. All MR Direct sinks, faucets and accessories can be viewed by visiting http://www.MRDirectint.com.