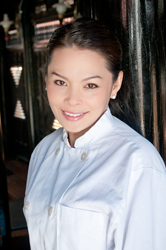 I feel very fortunate I am at a place in my life that I am able to focus on not only my family, but my community as well
Salt Lake City, Utah (PRWEB) July 21, 2014
2014 has been a big year for Entrepreneurs Organization (EO) Utah member, Mai Nguyen who was recently voted the National Association of Women Business Owners' (NAWBO) "Woman Business Owner of the Year" as well as "2014 Outstanding Asian Business Owner Award" by the Asian Chamber of Commerce. These awards come as no surprise to those who know Nguyen and her many accomplishments. Nguyen's four beautiful, award-winning restaurants employ over 100 people and achieved $3 million in sales last year. In addition, this visionary business owner has plans to develop two major commercial properties, one of which is geared towards creating opportunities for minority business owners.
Nguyen's flagship restaurant, Sapa Sushi Bar, is a local favorite. Though she opened it in 2009, during the recession, the restaurant thrived due to Nguyen's savvy business practices and the restaurant's unique flair. Nguyen's other restaurants, Fat Fish, Noodles & Chopsticks, and Bucket O' Crawfish have also earned a solid place in the surrounding community and rave reviews from restaurant patrons. Nguyen's two upcoming properties are ambitious feats. The one-acre downtown Salt Lake City location will be a distinctive multi-use space for retail, restaurants, bars, and condos. Nguyen's West Valley location will provide minority business owners an opportunity to lease-to-own their own retail space. Nguyen plans to seller finance, providing backing to these business owners who may not traditionally qualify for business loans. "When I set out to start my own business, my main goal was to provide for my family. I feel very fortunate I am at a place in my life that I am able to focus on not only my family, but my community as well," said Nguyen.
EO Utah has played a large part in Nguyen's success. Since joining EO Utah, Nguyen has broadened her network of business owners and found herself with many like-minded individuals. She enjoys being a member of EO Utah because of its exceptional support network. "I was skeptical of what EO would be able to do for me at first, but now, two years later, I am so glad I am a part of this organization and only wish I had found EO sooner," said Nguygen. "Not only have I benefitted professionally from joining, I have also made some great friends whom I trust and can count on." Members of EO have been impressed by Nguyen's contribution as well. "Mai is one of those people that will stay out of a lot of the conversations, but when she decides to speak everyone listens. It sounds cliché but she really does add diversity to our group and I know every person loves having her in our forum," said TechnaGlass Inc. President, Troy Mason.
About the Entrepreneurs' Organization
The Entrepreneurs' Organization (EO) – for entrepreneurs only – is a dynamic global network of 10,000 business owners in 40 countries. Founded in 1987 by a group of young entrepreneurs, EO is the catalyst that enables entrepreneurs to learn and grow from each other, leading to greater business success and an enriched personal life. Membership in one of EO's 131 chapters is by invitation only; the average member is 42 years old with annual sales of US$59.7 million. For more information on EO, visit http://www.eonetwork.org or call 703.519.6700.