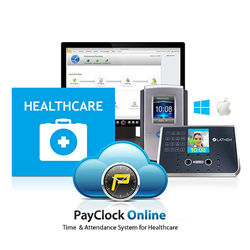 "PayClock Online is dependable, reliable and easy to use," said Angela Powell of Cornerstone Pediatrics.
Atlanta, GA (PRWEB) July 19, 2014
Like many medical practice managers, Angela Powell of Springboro-Ohio-based Cornerstone Pediatrics wears many hats: HR manager, accounts receivable tracker, payroll manager and physician credentialing specialist. So when she looked to upgrade her time and attendance system, she wanted something easy and painless. Lathem's PayClock® Online cloud-based time and attendance system turned out to be just the right medicine.
Prior to using PayClock Online, the practice used a Lathem employee time clock with desktop-based PayClock software. While the clock worked fine, the software was housed on a computer that belonged to another employee, so Powell often had to wait to do payroll. After an office flood destroyed the time clock, Powell switched to PayClock Online so she could process payroll at any time and from anywhere.
"We were happy with Lathem," Powell said. "So when it was time to replace our time clock, we chose an online system I could use to complete payroll whether I was at my desk or out of the office."
Today, the 15 office staff members and clinical nurse personnel clock in with a Lathem PC600 proximity badge time clock. Since the system is cloud-based, they can check their time records whenever they want. If they need to make a change, they can alert Powell and she can make the edits immediately.
"PayClock Online is dependable, reliable and easy to use," Powell said. "I'm able to edit the missed punches and payroll requests in advance because I have it accessible at my computer. It makes it much more time efficient when it comes to payroll day, cutting payroll time in half."
Lathem hosts PayClock Online on the web, so there's no software to install or network servers to maintain, eliminating any additional support and IT burdens for the business. The software easily exports to popular payroll applications like QuickBooks, ADP and Paychex.
About PayClock Online
PayClock Online is a cloud-based solution that enables businesses to manage time and attendance anytime, anywhere with an Internet connection. This web-based employee timekeeping system allows managers to quickly process payroll on their own time, when it is most convenient for them. Mobile functionality lets managers track remote employees' hours or administer payroll from their own mobile devices. It's easy to set up employees to clock in and out from their computers, mobile devices, or Lathem time clocks, and enable them to view their own time records and PTO information on the Web without supervisor assistance. PayClock Online easily integrates with popular payroll software systems like QuickBooks.
About Lathem
Headquartered in Atlanta, Georgia, Lathem is the leading provider of durable and affordable timekeeping products for small business. Founded in 1919, Lathem remains a family-owned and operated US manufacturer. More than 1 million small businesses worldwide use a Lathem solution every day to help manage their business, including cloud-based time and attendance systems, wall clocks, and biometric and mechanical time clocks.
In celebration of their 95th anniversary, Lathem has launched a year-long sales event that makes it easier for small businesses to upgrade to the latest technology in employee time and attendance management to improve productivity and streamline the payroll process.