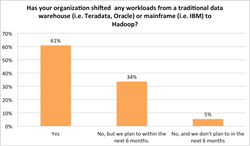 Marlborough, Mass. (PRWEB) July 21, 2014
Research from Wikibon indicates that new approaches to data management, most notably Hadoop and NoSQL, are already making inroads in the enterprise. According to a survey of 303 Big Data practitioners, 36% have deployed Hadoop to support either pilot or production workloads. In addition, the majority of Hadoop practitioners have shifted at least one workload from an existing enterprise data warehouse or mainframe to Hadoop (See Figure 1).
"Hadoop is not going to replace the data warehouse, at least not any time soon. But the open source Big Data framework does pose a threat to the cushy profit margins of data warehouse vendors including, but not limited to, IBM, Teradata, Microsoft and Oracle," said Wikibon Principal Research Contributor Jeff Kelly, who directed the survey and resulting analysis. "Hadoop and the data warehouse are competing for specific workloads in the enterprise and, hence, the related revenue."
The findings are just two of many from the research, entitled "Big Data Analytics in the Enterprise, H1 2014." To get a sense of the ways Big Data is used in the enterprise and what, if any, barriers to success are common among early adopters, Wikibon surveyed 303 Big Data practitioners in the U.S. and Canada in May 2014. Wikibon analysts also conducted in-depth phone and in-person interviews with several Big Data practitioners.
Among the top barriers to Big Data analytics success cited by survey respondents were difficulty transforming data into suitable form for analysis, difficulty integrating multiple data sources and difficulty integrating Big Data technologies into existing infrastructure.
"Through our research, Wikibon has identified a number of common barriers to successful Big Data analytics projects. Interestingly, many of the top barriers are not related to analyzing data per se, but preparing data to be analyzed," said Kelly. There are also a number of non-technology barriers cited by respondents, including challenges 'selling' the value of Big Data analytics to reluctant end-users on the business side."
Among other insights, the survey findings reveal the important role of professional services in Big Data analytics projects, the median data size and types of data involved in Big Data analytics projects, and the impact of public cloud computing Big Data services on existing projects.
For additional information on the survey findings, please contact John Greco at john.greco(at)wikibon(dot)org or 774-463-3400.
About Wikibon: Wikibon is a research and advisory firm focused on disruptive technologies and their impact on the enterprise. Wikibon's core coverage areas are Big Data, cloud computing and software-led infrastructure. Wikibon was the first research firm to size and forecast the Big Data market in 2011, and its analysis of the evolving Big Data ecosystem and technology landscape is relied on by practitioners, vendors, venture capitalists and more.