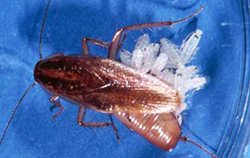 "Here at Gopher Patrol, we offer extensive roach services for all types of residences..."- Kurt W.
San Bernardino, CA (PRWEB) August 05, 2014
Issues with German Roaches can begin with anything. They can be brought home from a guest, child, or spouse. They could just be from a neighbor's apartment plumbing in the walls. Or even could be carried in grocery bags. Once these guys have entered a home, there is no stopping them without some heavy treatments with consistent monitoring. They tend to hide out during the day and come out once it's dark and everyone is asleep. They hide in dark, sheltered places under kitchen sinks, bathroom sinks, along walls and cupboards or cabinets. A couple of their favorite spots include behind drawers or around pipes or conduits where it is for them to move from place to place freely without being seen.
These ninjas in the night reproduce almost as fast as they run from the light, with their reproductive cycle being relatively short with about 30-40 eggs in "purse" carried by the female; creating an infestation with just one egg sac. German Roaches can have about 6 egg capsules in their lifetimes. The average maturity female life cycle is approximately 100-200 days.
Not only are they quick to produce, they can survive in the harshest conditions they'll even eat books and toothpaste! Roaches have also been known to become cannibalistic in the worst of times, eating each other's legs and wings. Don't be surprised if you detect a scent on that book, or taste a weird flavor on that cookie it crawled over. They are sure to have left an odor as well as other disease producing organisms, such as bacteria and viruses such as food poisoning, dysentery, and diarrhea. So it is safe to say prevention is the best key!
A simple precaution that will make the world of difference starts with leaving them hungry, by taking away their food supply. Clean dirty dishes as soon as they have been used, make sure to tightly close all food items, and make sure to clean thoroughly. Make sure those counters are dry, eliminating their desire to be near humid climates. And most importantly seal all openings and possible entry ways near kitchens and cabinets specifically. However, if you have a current infestation professional help may be the best option. Gopher Patrol has been servicing for pests such as these German Roaches for almost 18 years.