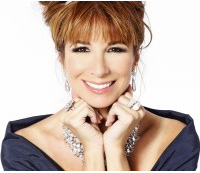 I have loved jewelry since I was a little girl I am so excited to be a host presenting fine jewelry on the Gem Shopping Network.
Atlanta, GA (PRWEB) July 21, 2014
Wednesday July 23rd, Jill Zarin will launch the Jill Zarin FINE Jewelry line on Gem Shopping Network live. Jill is joining Gem Shopping Network (GSN) as a guest host presenting fine jewelry live on air and will be showing pieces from both GSN and her own new jewelry line Wednesday July 23rd at 2:00 PM ET and again Thursday July 24th at 7:00 PM ET. Jill will be appearing on Gem Shopping Network as a guest host and will be selling fine jewelry in solid gold and platinum with both diamonds and colored gemstones.
PJ Lynch, CEO of Gem Shopping Network said, "We think our customers will love Jill's vitality and fashion knowledge. We are very pleased to have Jill with us for two shows this week."
Jill told us she is very excited to have an opportunity to present her jewelry line which she has been dreaming about since she was a little girl. Laughing, she said, "when I was little I used to draw jewelry on my Barbie's, I was absolutely obsessed with it." Jill said, "I particularly love colored gemstone jewelry because I can buy a huge gemstone for under $10,000." She also told us, "I love Gem Shopping Network because they have beautiful colored gemstone jewelry - that makes this a perfect fit for me."
Jill will be available for interviews on Tuesday July 22nd. To contact her for an interview time, send an email to sfischer(at)gemshopping(dot)com with the subject line "interview request."
About Gem Shopping Network:
This exceptional channel showcases rare gemstones and designer jewelry reaching almost 50-million households across the nation live 24 hours per day in an entertaining format. Watch live at http://www.gemshopping.com or on direct TV Channel 228, DISH Network 229 or your local cable affiliate.
Gem Shopping Network, is in its 17th year with over 150 employees. Their unique items of exquisite jewelry range from $100 to over $100,000. The network has an entertaining format allowing viewers to participate by helping select the items shown and sharing their delight in their purchases. Come, join the fun!