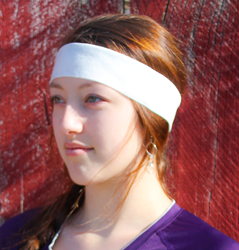 Farmington, UT (PRWEB) July 30, 2014
As an athlete himself, Ed Everhart saw the need for a product aimed at preventing and treating sports-related acne. When he realized no existing product did the job, he created his own formula, patented it and unveiled Acne Mop.
When someone works out, natural body oils and sweat are trapped under clothing and protective padding, forcing these oils back into pores and producing acne. In order to prevent this, Everhart created Acne Mop: Disposable cloths soaked in a natural formula of tea tree oil, white tea and cloves that fights acne. These cloths are tailored to fit comfortably under helmets, hats, pads, chin straps and shirts, and are meant to be worn for the duration of a workout, then discarded.
When Everhart had challenges finding a business to license his product, he mustered the determination every small business owner needs and decided to patent it himself, leaving his career of 23 years. He learned of Guidant Financial in a magazine article, and used the company's services to help him roll over funds from his retirement account to invest in his idea.
"Guidant was very professional," Everhart said. "[Their process] was a piece of cake."
For Everhart, becoming an entrepreneur and seeing his product come to life was a dream come true. Now, he's determined to create a coveted place to work by growing this business and treating his employees like gold.
In his spare time, Everhart enjoys long-distance running and lifting weights. "My best ideas come to me when I run," he explained. "It clears and opens my mind."
Acne Mop is available now. To learn more or purchase the product, call 435-764-3834 or visit acnemop.com.
###
About Acne Mop
Acne Mop is a revolutionary product that treats and prevents acne on athletes and military personnel. Acne Mops are cloths, covered in a proprietary blend of natural oils, meant to fit comfortably under helmets, padding and general sportswear. The patented formula includes Tea tree oil, white tea and cloves, as well as lavender oil and lemon juice for women. Ace Mops are created for the forehead, shoulders, back and chin, with multiple sizes available to fit the bodies of athletes of all shapes and sizes. For more information, visit acnemop.com.
About Guidant Financial
Guidant Financial helps people create the life they want through innovative small business financing. They are the premier provider of rollovers for business start-ups (ROBS). Guidant's services allow people from all walks of life the freedom to purchase small businesses and franchises using their retirement funds without taking a taxable distribution or getting a loan, in addition to offering traditional funding options such as SBA loans, portfolio loans and unsecured credit. Visit Guidant on the Web at guidantfinancial.com.