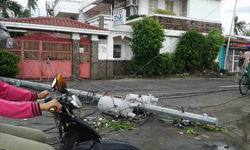 We have just received feedback from Quezon province that there are families who lost their homes. - Risa Vereña, Unbound staff member, Philippines
Kansas City, KS (PRWEB) July 18, 2014
Unbound, an international humanitarian organization based in Kansas City, is responding to people in regions of the Philippines devastated by Typhoon Rammasun.
The powerful storm battered the Albay province and the entire Bicol region, including the city of Legazpi, where Unbound has offices. People in the area say the wind was "howling like a monster," then doors blew open, roofs collapsed and massive trees were uprooted and fell on streets and homes.
Unbound staffers in the Philippines are checking on sponsored members of the organization that were in the path of the storm. The storm has devastated many families who were already struggling against extreme poverty.
"We have just received feedback from Quezon province that there are families who lost their homes," Unbound staff member Risa Vereña said. "The staff is still in the process of identifying affected families in all areas of Manila."
Food, blankets, access to emergency health care and rebuilding assistance will be made available to sponsored children, elderly and their families. Unbound also has an emergency assistance fund to help in disaster situations.
In the meantime, the Filipino people are preparing for another round of severe weather.
"There is another typhoon coming," Vereña said. "And we are praying that it will be safe again for all Filipino families and our entire nation."
Unbound is the largest nonprofit in Kansas with more than $120 million in annual revenue. We work directly with children, families and the elderly in 21 developing countries as they confront the challenges of poverty and work toward a better life.
Unbound distributes direct aid as quickly and efficiently as possible to people who need it. More than 93 percent of all the money Unbound spends goes to program support.