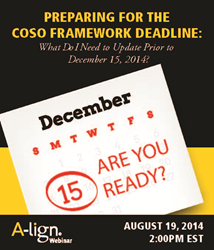 Tampa, FL (PRWEB) July 22, 2014
During the webinar, A-lign Senior Consultant, Sara McLane, will walk attendees through the updated principles and points of focus as well as highlight common controls that will meet the updated principles.
During the 60-minute presentation, webinar attendees will:

Gain a general understanding of the updated COSO Framework and codified principles
Understand the points of focus within the updated framework
Register for the event at the link below:
Webinar: Preparing for the COSO Framework Deadline (Tuesday, August 19, 2014 at 2pm EST)
About A-lign Webinars: A-lign presents quarterly webinars related to compliance, which are free to the public and also qualify for CPE Credit.
A-lign is a registered sponsor for Group-Internet Based CPE Programs and is listed on the National Registry of CPE Sponsors. Please indicate on the registration form if you wish to receive CPE credit.