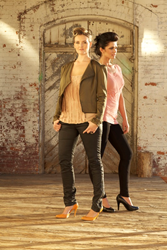 The summer collection includes a selection of ready-to-wear dresses, jackets, and skirts.
Denver, CO (PRWEB) July 22, 2014
Skye Gibson today announced the launch of the new women's contemporary fashion label. Made in the USA and using sustainable materials, the summer collection includes a selection of ready-to-wear dresses, jackets, and skirts.
Fit is a central focus at Skye Gibson. As owner/designer Sherissa Skye Gibson notes, "poor fit is the number one complaint from consumers when shopping for clothes." Bearing that in mind, Gibson developed the new fashion line to address these frustrations she and other women often encounter, including gaping, pulling and formlessness. The Skye Gibson design team applied careful attention to ensure that each silhouette, fabric and design detail fits and flatters the unique contours of a woman's figure. Each piece moves with the body and is made of soft, comfortable fabric—with a green ethos: fabrics include Modal and TENCEL, both of which are derived from wood pulp.
A native Coloradan, the designer grew up in Silverton, CO (population: 400), where she would often modify her clothes to achieve a better fit and express her own unique style. After receiving a Bachelor of Arts in Graphic Design from The Art Institute of Colorado, Gibson moved across the world to Melbourne, Australia, where she spent a year involved with The Fashion Incubator, a nonprofit organization that provides business-development and technical support for emerging fashion labels. Opportunities followed to showcase her designs in runway shows during a number of events, including Melbourne Fashion Festival. After receiving media attention describing her work as "sensational" and "standout design," Gibson made the full-time shift to fashion design.
Back stateside in Los Angeles, Gibson worked as a freelance wardrobe stylist and also as assistant to designer Kelly Wearstler. Now based in her native Colorado, and calling on her diverse experiences, Gibson has applied her design background to develop her own brand with a neutral palate, abstract prints, and intriguing design details. Skye Gibson looks are available exclusively at http://www.SkyeGibson.com.
ABOUT SKYE GIBSON
With a focus on fit and femininity, Skye Gibson garments are designed to be seasonless, easily transitioning from spring/summer to fall/winter. The versatile styles are appropriate for work attire, events like weddings and dinner dates, and more casual occasions alike. For more information please visit http://www.SkyeGibson.com.
--
Media Contact:
David Scott
CONTENT Public Relations
david (at) ContentUniversal (dot) com
720.371.9164
# # #