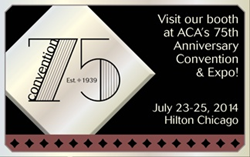 Exhibiting at ACA has provided us with excellent exposure to the ARM industry
Tampa, FL (PRWEB) July 18, 2014
A-lign's exhibitor showcase will take place on Thursday, July 24, 2014 at 12:15 PM CDT, where they will discuss the advantages of being compliant in the ARM industry as well as provide an overview of the assurance and security services most prevalent to the industry, including: SSAE 16, PCI DSS, ISO 27001 and the CFPB Exam Readiness Assessment.
This will be A-lign's fourth year exhibiting at ACA International's annual convention. "Exhibiting at ACA has provided us with excellent exposure to the ARM industry and we are excited to take part in another value-added benefit that ACA has added to their conference agenda this year," explains Neil Gonsalves, Director of A-lign.
Gonsalves in addition to Julius Berith, A-lign's Business Development Specialist, will take part in the exhibitor showcase presentation as well as represent A-lign in the exhibition hall at booth 922.
About A-lign*: A-lign is a full service security and compliance solutions firm with extensive experience in providing: SOC 1: SSAE 16 Examinations, ISO 27001 Certifications, PCI DSS Assessment Services, SOC 2: AT 101 Services, FedRAMP Security Assessments, SOC 3: WebTrust/SysTrust Services, FISMA Security Assessments, HIPAA and HITECH Services, Penetration Testing and Vulnerability Assessments. A-lign is a licensed CPA firm, QSAC, accredited ISO 27001 certification body and accredited FedRAMP 3PAO.
A-lign consists of (1) Price and Associates CPAs, LLC d/b/a A-lign CPAs, and (2) A-lign Security and Compliance Services, LLC. The two companies are separate and independent legal entities that work together to service the business needs of their clients. A-lign Security and Compliance Services, LLC is not a licensed CPA firm. A-lign CPAs is not an accredited FedRAMP 3PAO, Qualified Security Assessor Company or accredited ISO 27001 Certification Body.