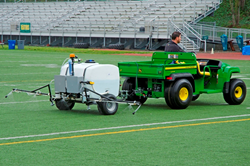 Wichita, KS (PRWEB) July 18, 2014
Sports construction company Hellas is set to receive MoJack Distributors' Clean O3 OnTurf cleaning system for field testing with the goal of further lessening the impact on the environment and increasing player safety.
"We are very excited about the opportunity to be one of the first to test MoJack's OnTurf cleaning system," said Reed J. Seaton, President and Chief Executive Officer of Hellas Construction. "We are familiar with the products MoJack has manufactured in the past, and expect this new cleaning system to be just as impressive."
Through the use of ozone, or O3, the Clean O3 OnTurf cleaning system is able to eliminate 99% of the bacteria and viruses when they exist. The system is environmentally friendly, and is expected to be one of the most effective leaders in the sports field maintenance market that also contributes to player safety.
"Partnering with a nationwide sports firm like Hellas Construction, given their stellar reputation for delivering premium quality construction projects, provides the OnTurf system with a strong launch in Texas paving the way towards chemical free sanitation of turf fields throughout the U.S.," said Dan Drake, CEO of MoJack Distributors.
Hellas Construction and MoJack Distributor will exhibit at the Texas High School Coaches Association conference held in San Antonio, Texas on Monday, July 21, 2014.
About MoJack Distributors
MoJack Distributors, LLC MoJack creates hard-working consumer tools with smart designs and innovative features that set them apart from other products. MoJack's line includes new and improved lawn mower lifts, lift accessories, hand trucks and moving accessories, power generators, and a full line of pellet grills/smokers. MoJack is located in Wichita, KS and distributes products to 7500 locations within major retail stores including Sears, Lowes, and Home Depot and independent dealers across the United States, Canada, Europe and Australia. To find out more, visit http://www.themojack.com and http://www.cleano3.com.
About Hellas Construction
Headquartered in Austin, Texas, Hellas Construction is a nationwide contractor with a strong reputation for delivering premium-quality sports construction projects across the United States. Hellas has the ability to custom-manufacture and install proprietary brands of synthetic surfaces for field sports, running tracks, and tennis courts, by controlling all related operations. For more information, visit hellasconstruction.com and matrix-turf.com or follow them on twitter and Facebook.