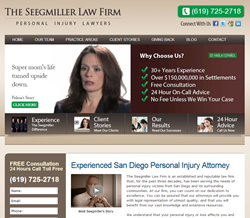 Our San Diego website is designed based on focus groups we did to really showcase the information and stories our potential clients want to see. It's not full of legalese and it's goal is to educate and connect with people
San Diego, CA (PRWEB) July 18, 2014
The Seegmiller Law Firm, an experienced personal injury law firm with offices in Southern California and Nevada has launched a new website at http://sandiegopersonalinjury.net/ dedicated exclusively to the people of San Diego County.
"We wanted to become more accessible to our numerous clients in San Diego, and so we created a website designed solely for them," says William Seegmiller.
This website will be home to valuable information such as the firm's practice areas, client stories, staff and attorney backgrounds, articles, contact details, and a blog on the latest accidents and cases in San Diego.
"Personal injury law can be a complex subject," states Seegmiller. "Our San Diego website is designed based on focus groups we did to really showcase the information and stories our potential clients want to see. It's not full of legalese and it's goal is to educate and connect with people. We know very well what a difficult journey our clients are going through, and so we aim to help them through these trying times by prioritizing their needs, providing them with quality legal representation, and reassuring them that they are not alone."
William Seegmiller graduated from the University of California Davis with a Bachelor's Degree in Political Science, earned his Master's Degree from the University of Southern California, and proceeded to earn his Juris Doctor Degree from The McGeorge School of Law at the University of the Pacific.
The Seegmiller Law Firm has successfully handled an extensive range of personal injury, accident and wrongful death cases for more than 30 years. These cases include auto accidents, motorcycle accidents, bicycle accidents, truck accidents, pedestrian accidents, catastrophic injury, brain injury, product liability, dog bites, premises liability and much more.
The esteemed law firm is a certified member of the Million Dollar Advocates Forum, which is comprised of less than one percent of all attorneys in the United States. It is also AV rated by Martindale-Hubbell and has an impressive 10/10 rating on independent attorney review site AVVO.
To speak with an experienced personal injury lawyer about your case, call The Seegmiller Law Firm today at (619) 725-2718 or visit http://www.SanDiegoPersonalInjury.net.
The Seegmiller Law Firm
7676 Hazard Center Drive
San Diego, CA 92108, United States
+1 619-725-2718