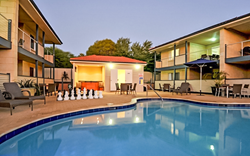 "BEST WESTERN PLUS has really taken off in North America and Asia, and we are on our way to replicating that same success here in Australia," said Best Western Australasia's CEO Rob Anderson
SYDNEY (PRWEB) July 17, 2014
Best Western has welcomed the 4-star BEST WESTERN PLUS Kalbarri Edge Resort in Western Australia (WA). Built in 2009, the 72-room BEST WESTERN PLUS Kalbarri Edge Resort is the 20th property in Australia to pass Best Western's Quality Assurance program to carry the brand's midscale BEST WESTERN PLUS hotel type.
"BEST WESTERN PLUS has really taken off in North America and Asia, and we're on our way to replicating the same success here because we're very selective about the properties we allow to qualify as a PLUS hotel," said Best Western Australasia's Chief Executive, Rob Anderson.
With over 4,000 hotels in 100 countries, Best Western International introduced the three hotel types in 2011 to help distinguish its midscale and upscale properties.
"Each time we add a new hotel we're welcoming only the highest quality accommodation to our group, with BEST WESTERN PLUS Kalbarri Edge Resort being the newest addition to 12 properties already linking WA's metropolitan and regional towns."
BEST WESTERN PLUS Kalbarri Edge Resort's 72 rooms range from fully self-contained two bedroom serviced apartments to spa suites and deluxe studios, with king beds, modern in-room facilities and upgraded bathroom amenities. Ideal for groups, guests can enjoy free Wi-Fi, large flat-screen TVs, free Foxtel channels, and a kitchenette or kitchen with a microwave in each room.
Property features include a solar-heated pool, gym, large balconies, outdoor dining and private barbecues. The fully licensed Edge Restaurant is open seven days for breakfast and dinner, with a separate room service menu available. Guests wishing to dine out can take a five minute walk to Kalbarri town centre.
The property is jointly owned by WA's hospitality industry operator and consultant, Chris Pye (CEO and Chairman of Hospitality Inns) and Jon Jessop of Edge Resorts.
"We've been with Best Western for decades and in our opinion, the quality accommodation offered by this Kalbarri resort will be well received by our Best Western clients travelling around WA," Mr Pye said.
Pye's portfolio includes four Best Western properties in regional WA – Carnarvon, Esperance, Geraldton and Kalgoorlie – and two Perth hotels with the midscale BEST WESTERN PLUS Ascot Serviced Apartments and 5-star boutique hotel, BEST WESTERN PREMIER Terrace Hotel in Perth's West End.
"Kalbarri provides a great link between our existing WA properties, so it made commercial sense for us to continue with Best Western. We like the BEST WESTERN PLUS brand – our BEST WESTERN PLUS Ascot Serviced Apartments near Perth's airport precinct operates at high occupancy – and we are riding happily on the back of the success Best Western has enjoyed after opening 14 hotels in 2013."
"We expect our Kalbarri resort will entice people to stay longer and see more of the beautiful natural landscapes in the area. The Murchison River gorges in Kalbarri National Park are half an hours' drive from town and great for photos."
A comfortable seven-hour drive or 600 kilometres north from Perth, Kalbarri is a seaside town sitting at the mouth of Murchison River and entrance to Kalbarri National Park. Popular for tailor fishing, the area also offers horse-riding and skydiving. Wagoe Beach, the Lucky Bay Beach sand dunes and Kalbarri Golf Club are popular attractions for families and tour groups all year round.
For more information on global development opportunities with Best Western International, please visit bestwesterndevelopers.com.
To learn more about a specific hotel or discover other Best Western hotels across the world, visit bestwestern.com.
About Best Western Australasia
Best Western Australasia is part of Best Western International, the World's Biggest Hotel Family, with over 4,000 hotels in 100 countries worldwide. There are 180 independently owned and managed Best Western hotels across Australia, New Zealand and Fiji. Every Best Western hotel undergoes a 200 point quality check as part of the global group's stringent global quality assurance program. There are three Best Western hotel types: BEST WESTERN, BEST WESTERN PLUS and BEST WESTERN PREMIER. Find out more at http://www.bestwestern.com.au/hotel-types.
ABOUT BEST WESTERN INTERNATIONAL, INC.
Best Western International, Inc., headquartered in Phoenix, Ariz., is a privately held hotel brand made up of more than 4,000* BEST WESTERN®, BEST WESTERN PLUS® and BEST WESTERN PREMIER® hotels in more than 100* countries and territories worldwide. Now celebrating 68 years of hospitality, Best Western welcomes hundreds of thousands of guests nightly. Best Western provides its hoteliers with global operational, sales, marketing and promotional support, and online and mobile booking capabilities. More than 20 million travelers are members of the brand's award-winning loyalty program Best Western Rewards®, one of the few programs in which members earn points that never expire and can be redeemed at any Best Western hotel worldwide. The brand's partnerships with AAA/CAA and Harley-Davidson® provide travelers with exciting ways to interact with the brand. In 2013, Best Western earned our highest level of brand recognition, including our fifth AAA/CAA Hotel Partner of the Year award, second Compuware Best of the Web Gold award, fourth No. 1 ranking in Brand Keys Consumer Loyalty Engagement Index for midscale hotels and seventh TTG Asia Best Mid-range Hotel Brand. Forty-one percent of Best Western hotels worldwide won TripAdvisor Certificates of Excellence for customer satisfaction.
For more information or to make a reservation, please visit bestwestern.com.
*Numbers are approximate and may fluctuate.