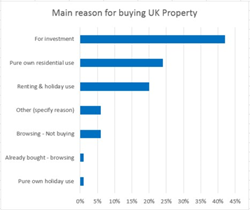 A large proportion of overseas clients buying UK investment property are expats working in the Middle East and Far East
Lancashire, UK (PRWEB UK) 22 July 2014
Previous surveys done by Find UK Property have shown Investment and "Holiday Use" to be equally important reasons why overseas residents are looking for UK Property. Their latest survey shows the most important reason now is clearly purchase for pure investment.
UK nationals living and working overseas (also known as Expats) form a large proportion of overseas residents buying property in the UK. Whilst many buy for their own use, an increasing number of Expats have also been buying for pure investment and this trend seems to be increasing. Added to this are residents of other countries who may not be UK nationals, but still see the UK as a "safe haven" when considering long term investment in property. For them, the UK is attractive as UK property buying process and selling laws are well regulated and long term title ownership is clear cut.
A survey conducted in June 2014 by 'Find UK Property' on the buying intentions of overseas buyers, shows that an even higher percentage are now looking to buy for investment. In 2009 survey, only 31 % of clients were considering a property purchase in the UK for pure investment. In 2014 the percentage is significantly higher at 42%.
The main reasons for purchase are:-
Buying for Pure Investment - 42%
Pure Own Residential use – 24%
Renting and holiday use – 20%
Andy Noble, Senior Marketing Consultant at Find UK Property explains that a large proportion of this increase is from UK Expats working in the Middle East and Far East. Such clients have high earnings and are now realizing that investment in suitable property offers them better returns than other forms of investment. Rather than investing in property abroad, which can be higher risk, they are now buying UK investment property whilst continuing to work abroad."
Many such clients are looking at these property investments for the very long term and intend to keep them to generate pension income. They also qualify for the £10,000 UK personal allowance, which means that for many the UK rental income is effectively tax free.
He added, "Find UK Property helps overseas investors purchase low cost fully managed property in the UK. Many of our customers are investors and Expats based in the Middle East and Far East who purchase via our partner company, Sandcastles based in Dubai. This trend of buying for investment has increased the demand of our low cost 2-bed and 3-bed houses, particularly in the Lancashire area. These 2-bed houses at £54,995 are much lower cost than properties near London and come with 8% rental yield which is more than double the rental yields of properties in the South."
Whilst many non UK nationals are still attracted to London, the trend amongst knowledgeable UK expats living abroad is to opt for lower cost properties away from London in areas such as the North West including Lancashire, Manchester and Liverpool.
About "Find UK Property"
Find UK Property are the 'buyers' agent and specialise in helping serious overseas buyers find the most suitable investment property for their needs. The company conducts regular surveys on overseas investors and findings are printed at their "UK Property News" Blog at http://blog.findukproperty.com.
The most popular purchase are the fully managed low cost houses in the price range of £55,000 to £70,000 that come with full management, repair guarantees, and guaranteed rent. Many clients are seasoned investors who may have purchased investment property in other countries via sister companies Openshore Property and Sandcastles based in Dubai. Further details can be found on the Find UK sales website at http://www.findukproperty.com