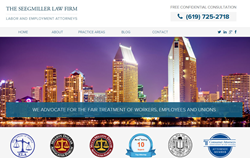 Despite comprehensive employment laws, far too many employees are still treated unfairly by their employers
San Diego, CA (PRWEB) July 18, 2014
The Seegmiller Law Firm, an reputable employment and personal injury law firm in southern California, has announced the launch of a new employment law website at http://www.sdemploymentatty.com to help people who are dealing with various labor and employment issues.
"Despite comprehensive employment laws, far too many employees are still treated unfairly by their employers," shares Seegmiller. "Our legal team knows how overwhelming and intimidating it can be to take on your employer. We aim to provide quality legal representation and help those who are wronged pursue justice against improper treatment at the workplace."
SdEmploymentAtty.com (short for San Diego employment attorney) is home to valuable information such as the firm's background, practice areas, articles and contact details.
According to William "West" Seegmiller, the firm's founder, "We hope that our new home on the web will enable us to be more accessible to both potential and present clients."
The Seegmiller Law Firm has successfully represented clients in a wide range of employment and labor-related cases over the years. Cases in employment law include those involving wrongful termination/dismissals, sexual harassment, discrimination, retaliation, hostile work environments, whistleblowing, and family medical leave claims.
William Seegmiller graduated from the University of California Davis with a Bachelor's Degree in Political Science, earned his Master's Degree from the University of Southern California, and proceeded to earn his Juris Doctor Degree from Sacrament's McGeorge School of Law at the University of the Pacific.
For more than 30 years, the skilled and compassionate attorneys at The Seegmiller Law Firm have been getting justice on behalf of clients. The esteemed law firm is a certified member of the Million Dollar Advocates Forum, which is comprised of less than one percent of all attorneys in the United States. It is also AV rated by Martindale-Hubbell and has an incredible 10/10 rating on independent attorney review site AVVO.
For a free evaluation of your employment law case people are encouraged to call (619) 725-2718 or visit http://www.sdemploymentatty.com.