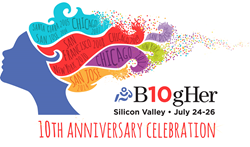 BlogHer '14 is the single largest gathering of women bloggers and social media influencers in the U.S., making BlogHer the best time and place to reach this influential and highly social consumer audience.
Belmont, CA (PRWEB) July 17, 2014
BlogHer, Inc., the premium cross-platform media network and publisher for women, today announced the top-level BlogHer '14 sponsors who will join Skype, BlogHer's Official Communications Partner, to host 4,000 attendees at the San Jose Convention Center in the heart of Silicon Valley, July 24-26, 2014.
"BlogHer '14 is the single largest gathering of women bloggers and social media influencers in the U.S., making BlogHer the best time and place to reach this influential and highly social consumer audience," said Elisa Camahort Page, BlogHer Co-founder and COO. "The ongoing success of this event is only possible with the partnership of our lead sponsors. We thank them for supporting the event and our community."
BlogHer '14 Platinum and Gold Sponsors
Longtime partner McDonald's® is returning to sponsor BlogHer for its sixth straight year, and will host the BlogHer '14 Closing Party on Saturday, July 26, from 7-10:30 p.m. The Happy Meal themed party will feature World Famous Fries®, new Go-Gurt® low fat Strawberry Yogurt, and a dance party featuring trailblazing hip-hop pioneer Rev Run of Run-D.M.C. Set beneath a beautiful California sunset and accompanied by sangria, the evening will be a pull-out-the-stops celebration of the BlogHer community.
Additional Platinum Sponsors include two new sponsors: Hairfinity and The Mrs. Hairfinity is a nutritional supplement promoting healthy hair growth. Their booth will be a hub of activity on the expo floor throughout the conference, including a visit from celebrity spokeswoman Khloe Kardashian on Saturday afternoon.
Debuting at BlogHer will be an all-female rock band from Austin, Texas called The Mrs., that writes pop music about things other women can actually relate to - juggling a career, marriage, motherhood and friendships, while still trying to maintain your own identity. Their debut single "Enough'" was written to help women see themselves with a less critical eye. See what happened when they took their message to the streets. The Mrs. will be performing live during the lunchtime keynote on Saturday July 26th.
Gold Sponsors include Bridgestone, Count Us, Know Us, Join Us and return sponsor Lysol. Lysol will bring its interactive Healthy Habits Bus – a science museum on wheels that teaches children about germs and hygiene – to the expo hall floor to spread news of its Healthy Habits Program. The program includes a Healthy Habits Contest where parents, teachers and school administrators can nominate their school for a chance to win a grand prize including a $15,000 educational grant, a visit from the Healthy Habits Bus and a one year supply of Lysol Disinfecting Wipes and Lysol No-Touch Hand Soap.
Bridgestone, the world's largest tire and rubber manufacturer, will feature DriveGuard tires, which allow you to drive up to 50 miles at up to 50 miles per hour after a pressure loss.
The Count Us, Know Us, Join Us mission is to recognize people living with advanced breast cancer, their caregivers, supporters, friends, and family members. Women with advanced breast cancer have different physical and emotional needs from those in earlier stages and report feeling isolated from the broader breast cancer movement. Several advocacy organizations collaborated with Novartis Oncology to bring much-needed awareness and attention to the community and to reinforce that these women do count.
BlogHer's lead sponsors are among 100 sponsors activating on the BlogHer Expo Floor and beyond, delivering unique experiences and developing relationships with the BlogHer community.
To join BlogHer's sponsors and attendees this July 24 to 26 at the San Jose Convention Center, please visit: https://www.xpressreg.net/register/blog074/landing.asp
About BlogHer:
BlogHer (http://www.blogher.com) is the leading cross-platform media network created by, for and with women in social media. BlogHer delivers quality advocacy at scale for brands seeking to engage in authentic and persuasive dialogue with moderated communities led by more than 3,000 quality bloggers and 12,500+ engaging, original voices in social media, reaching an audience of 100 million across premium blogs, Pinterest™, Facebook®, and Twitter™. Founded in February 2005 by Elisa Camahort Page, Jory Des Jardins and Lisa Stone, BlogHer publishes and syndicates news, information, advice, recommendations and research on women in social media across interest areas as well as on BlogHer.com. The Company also hosts the world's largest conferences for women in social media.