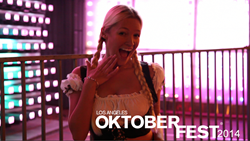 The one and only LA Oktoberfest
Beverly Hills, CA (PRWEB) July 18, 2014
Los Angeles Oktoberfest, invites you for a fun-filled day of German food, beer and live entertainment, Saturday, October 4 and Sunday, October 5. This event will be held at the Lot located at Beverly Hills Country Club 3084 Motor Ave. Los Angeles, Ca 90064.
Los Angeles Oktoberfest will offer lively sing-alongs of old time drinking songs with Bavarian dancers, and a fine assortment of German and local beers.
The opening ceremony is scheduled for 2 PM with city officials welcoming everyone with the traditional Tapping of the Keg. This Bavarian custom will officially tap the first keg of German beer by hammering a wooden mallet with a bronze spout into the keg -- then the fun begins.
Silent Auction will feature some of the sought after items such as dinners with celebrities to Dodgers and Lakers tickets.
Tickets are available in advance through http://www.laoktoberfest.com
For more information on the Los Angeles Oktoberfest 2014, call 213-915-8003.
An authentic recreation of the Munich Oktoberfest featuring German entertainers in authentic costumes perform traditional Bavarian folk dances, schuhplattling, oompah music, sing-a-longs, yodels and more. The best of German beers are served along with several types of German sausage, sauerkraut, strudel, giant pretzels and more.