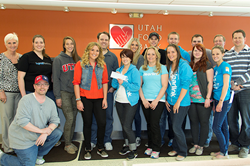 Salt Lake City, UT (PRWEB) July 18, 2014
Today, 15 CLEARLINK employees will volunteer in the warehouse of the Utah Food Bank. They will also present a check for $2,540, which is a result of CLEARLINK donating ten dollars for every pound of positive change during the company's annual fitness competition. Utah Food Bank is able to turn every $1 donation into $8 worth of goods and services.
"We love to hear about creative ways that companies engage their employees to make an impact on Utah's hunger," said Ginette Bott, Utah Food Bank's Chief Development Officer. "A weight loss challenge is a great way to encourage employees to give back to their community, while taking care of their health. We are grateful to CLEARLINK employees for their annual commitment to our mission of Fighting Hunger Statewide."
CLEARLINK has created an award winning health and wellness program, and the annual fitness competition is part of the program. The competition is three-fold in purpose: 1) facilitate a culture of wellness and encourage healthy lifestyle changes, 2) generate engagement among employees, and 3) creatively give back to the community.
"We encourage a culture that values wellness and building relationships," said Cammie Cable, CLEARLINK's Vice President of Human Resources. "It is our goal, with opportunities such as this, to create meaningful ways for employees to connect more deeply to their community, while improving themselves personally."
In 2013, CLEARLINK was named one of America's top 100 companies to work for according to Outside magazine, and CEO, Phil Hansen was recognized as the Ernst & Young Entrepreneur of the Year® in the Services category of the Utah Region. Recently, in 2014, CLEARLINK's 360 Fit Wellness program has been awarded the Healthy Worksite Gold Award and the Corporate Wellness by Gold's Gym Diamond Award.
About Utah Food Bank
Utah Food Bank provides food to a statewide network of 130 emergency food pantries and agencies. Last fiscal year, Utah Food Bank distributed 36.3 million pounds of food and goods, the equivalent of approximately 28.4 million meals for families and individuals in need. Utah Food Bank also served over 202,000 Kids Cafe meals, delivered more than 41,000 food boxes and filled more than 69,000 kids' backpacks for hunger-free weekends. For more information about Utah Food Bank, visit http://www.utahfoodbank.org. Find us on Facebook at http://www.facebook.com/UtahFoodBank and Twitter at http://www.twitter.com/UtahFoodBank.
About CLEARLINK
CLEARLINK partners with the world's leading brands to increase their reach, drive and fulfill valuable transactions, and deepen insight into consumer behavior. CLEARLINK has delivered millions of customers to its brand partners over the past ten years through its customized marketing, sales and analytics platform.
CLEARLINK, headquartered in Salt Lake City, Utah and established in 2003, employs over 1,200 local sales, technology and marketing professionals. For an opportunity to join the growing CLEARLINK family, visit http://www.clearlink.com/jobs.
Media Contact
Tarah Reeves
Director of Public Relations
CLEARLINK
Tarah.Reeves(at)clearlink(dot)com
Heidi Canella
Communications Specialist
Utah Food Bank
Heidic(at)utahfoodbank(dot)org