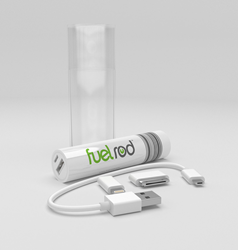 San Diego, CA (PRWEB) July 21, 2014
FuelRod, a San Diego, CA based start-up announced today its pilot program for the FuelRod™ Station, portable cell phone charger vending machines, at the San Diego Convention Center. The announcement comes just days before the start of Comic-Con, the largest convention in the San Diego Convention Center. The FuelRod Station supplies portable charging units that can be used to recharge Android or iOS cell phones or tablets. The FuelRod pilot program will place six to eight FuelRod vending machines throughout the San Diego Convention Center to help Comic-Con attendees stay connected while they enjoy this year's event.
The FuelRod™ Station dispenses kits that include a fully charged compact, rechargeable FuelRodTM, a charging cable, and adapters for Android and iOS based mobile devices. The price for a FuelRod kit is $20, and also includes unlimited exchange of used FuelRods for new, fully charged FuelRods, a function that the company refers to as "swapping." FuelRods can also be recharged at home using a USB outlet or charging device.
"People come to Comic-Con to enjoy the event, not to spend time tethered to a wall socket," said company spokesperson Joe Yeagley. "Like a super hero, our FuelRod is here to rescue stranded conference goers who find themselves chained to a wall socket! We're putting the 'mobile' back into mobile devices."
"We are thrilled to partner with FuelRod in offering our attendees a cutting-edge service that lets them focus on their meeting by taking the worry away about their phone staying charged," said Tom Mazzocco, Executive Vice President and Chief Operating Officer of the San Diego Convention Center.
About FuelRod
San Diego, California based FuelRod develops efficient and environmentally conscious solutions that provide power for portable and battery operated devices. Founded in 2010, the company offers battery solutions servicing a wide range of product applications from cell phones and tablets, to flashlights and remote control toys. FuelRod keeps power accessible on the go, and keeps batteries out of landfills to support a cleaner more productive planet. For more information visit: http://www.fuel-rod.com.
About the San Diego Convention Center Corporation
The San Diego Convention Center Corporation is a public benefit corporation created by the City of San Diego to exclusively manage and operate the 2.6 million sf waterfront facility. Now celebrating nearly 25 years of success, the San Diego Convention Center has generated $22.9 billion in regional economic impact, $430.3 million in tax revenues and supports 12,500 jobs countywide.