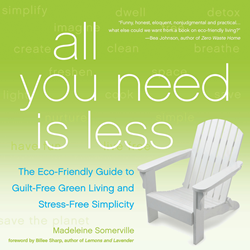 "With a chatty, friendly, guilt-free tone, All You Need is Less offers a plethora of ideas for living a greener, healthier, more eco-friendly and sustainable lifestyle."—San Francisco Book Review
(PRWEB) July 18, 2014
Madeleine Somerville is the author of the new book from Viva Editions, All You Need is Less: The Eco-Friendly Guide to Guilt-Free Green Living (2014). For her first bookstore event, she will be signing copies of her book at Chapters Indigo at the Whyte Ave/Strathcona Chapters store, at 2 PM on JULY 19.
As well as signing books, she will be collecting plastic waste from beauty products teamed up with Terracycle. They will accept lipstick cases, mascara tubes, eye shadow cases, shampoo bottles, conditioner bottles, bronzer cases, foundation packaging, body wash containers, soap tubes, soap dispensers, lotion dispensers, saving foam tubes, powder cases, lotion bottles, chapstick tubes, lotion tubes, face soap dispensers, face soap tubes, face lotion bottles, face lotion jars, nail polish bottles, nail polish remover bottles, eyeliner cases, eyeliner pencils, eyeshadow tubes, concealer tubes, concealer sticks, lipliner pencils, hand lotion tubes, hair gel tubes, hair paste jars.
When asked if she was going to have a pile of garbage behind her book signing table, Madeleine responded, "Yes! No! Well I guess technically it's garbage but it'll be clean garbage! Garbage that we are stopping from going into the garbage so that it's actually not garbage anymore! We are liberating the garbage! Rescuing it, if you will!"
All You Need is Less
The Eco-friendly Guide to Guilt-Free Green Living and Stress-Free Simplicity
By Madeleine Somerville
Top eco-blogger and new parent Madeleine Somerville has gathered completely original ideas on how to save money and the planet, and have fun in the process, in All You Need Is Less. Learn how to create and not just consume!